Crouton Eggs

(4 servings)

4 slices enriched white bread
1/2 cup butter
8 eggs
salt and pepper - to taste
At first look, this recipe might seem odd and quirky, but - trust me - it's delicious. The buttery, homemade croutons are the focal point of this dish. The eggs just hold it together and make it feel like breakfast. I used about 1/2 the butter listed in the ingredients and found that to be just right. Bottom line: This is a unique breakfast that would make again. (This recipe was tested and photographed in August 2014.)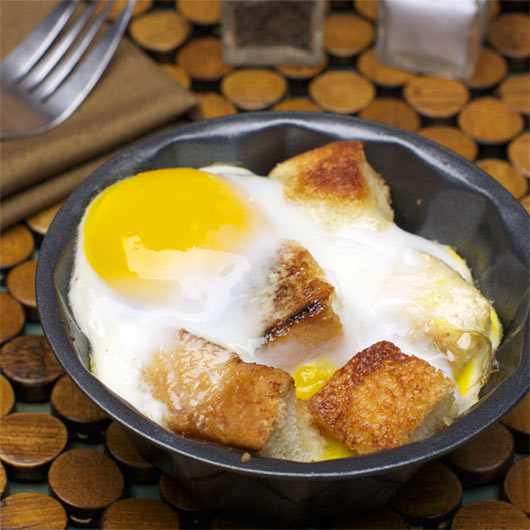 How To Make Crouton Eggs

Dice the slices of bread into 1/2-inch squares. Melt the butter in a large skillet and place the bread cubes in the melted butter. Saute, turning frequently, until they are crisp and a rich golden brown on all sides.

Place the toasted bread cubes in equal portions in 4 shallow, oven-proof dishes. Break each egg in a saucer and carefully slip two eggs into the dishes containing the toasted bread cubes. Season to taste with a little salt and pepper.

Bake in a 325 degree oven for 15 minutes or until the eggs are set and done to the desired firmness.

Serve at once. Serves, 4, allowing 2 eggs per serving.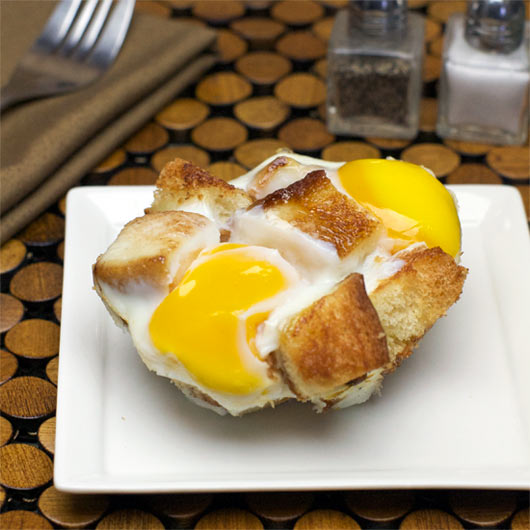 Croutons aren't just for salads. This recipe is from the chapter "Eggs For Breakfast" in The Fabulous Egg Cookbook.




Mr Breakfast would like to thank Mr Breakfast for this recipe.

Recipe number 2886. Submitted 7/21/2010.