Ham & Cheese Baked-In Biscuits

(6 servings)

2 cups all-purpose flour
1 Tablespoon baking powder
2 teaspoons sugar
1/2 teaspoon salt
1/3 cup cooked ham - finely chopped
1/3 cup shredded Cheddar cheese
2 Tablespoons green onion (about 1 green onion) - chopped
3/4 cup heavy cream
3 Tablespoons butter - softened
Preheat oven to 375 degrees.

In a large bowl, sift together the flour, baking powder, sugar and salt.

Add the ham, cheese, onion and cream. Mix gently until the dough sticks together. (This is best done with your hands - gently squeezing and pressing down the dough until a unified ball forms.)

Turn the dough out onto a lightly floured surface. Pat the dough down to a thickness of 1 inch. Using a 2-inch biscuit or cookie cutter, cut the dough into 12 to 14 biscuits.

Place the biscuits on an ungreased baking sheet. Brush the tops of each biscuit with softened butter.

Bake for 18 to 20 minutes or until golden brown.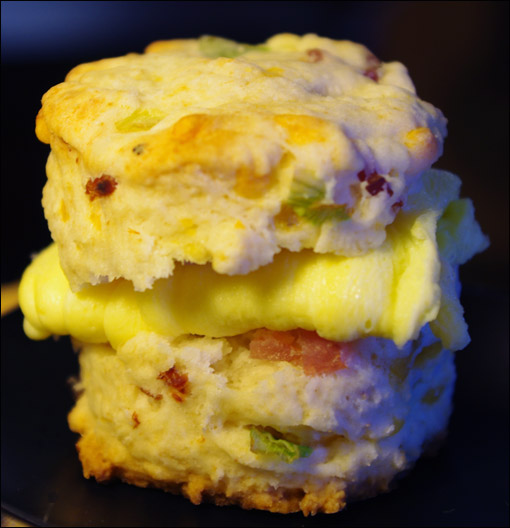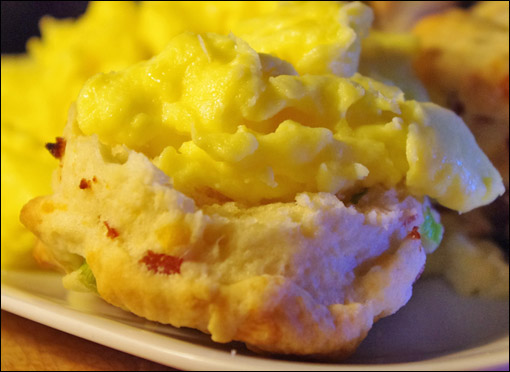 These flavorful biscuits are great with scrambled eggs. Try one with fried egg and cheese for an interesting twist on your next breakfast sandwich.




Mr Breakfast would like to thank Mr Breakfast for this recipe.

Recipe number 2878. Submitted 7/12/2010.