Fruity Pebbles Snowman

(12 servings)

1/4 cup butter or margarine (1/2 stick)
6 cups Jet-Puffed Miniature Marshmallows
1 box (13 ounces) Post Fruity or Cocoa Pebbles Cereal (about 8 and 1/2 cups)
decorating icing - your favorite color
decorations (see tips below)
Microwave the butter in a 4-quart microwavable bowl on high for 45 seconds or until melted. Add the marshmallows and toss to coat. Stirring every 30 seconds, microwave 60 to 90 second until marshmallows are completely melted and well-combined. Add the cereal and mix well.

Shape 1 cup of the cereal mixture into a ball using wet or greased hands. Repeat to make a total of 6 large balls.

Shape 1/2 cup of the cereal mixture into a smaller ball. Repeat to make a total of 6 smaller balls.

Place one small ball on top of each larger ball to make a snow person. Gently press balls together to secure. Decorate as desired using icing to adhere decorations to the Snow People.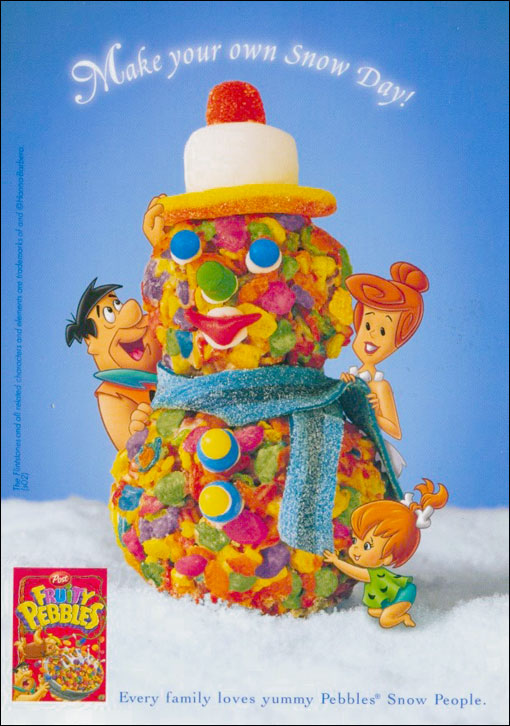 Decoration Suggestions:

Use candies such as gumdrops, red hot cinnamon candies, peppermint candies, small jelly beans, miniature marshmallows, Nilla Wafers, Mini Oreo Chocolate Sandwich Cookies, Mini Chips Ahoy! Real Chocolate Chip Cookies, chewy fruit snack rolls, string licorice, pretzel sticks, candy coated milk chocolate candies and nonpareils.



The Flintstones and all related characters and elements are trademarks of Hanna-Barbera.




Here's a fun holiday idea from magazine ad for Fruity Pebbles Cereal. This recipe makes 6 Fruity Pebbles Snowmen. *You can also use Rice Krispies or any of your favorite puffed cereals to make these snowmen!




Mr Breakfast would like to thank Mr Breakfast for this recipe.

Recipe number 2873. Submitted 7/6/2010.