Brown Rice & Pumpkin Porridge

(2 servings)

1 cup cooked brown rice
1 cup milk
2 Tablespoons brown sugar
1/4 teaspoon cinnamon
1 pinch freshly grated nutmeg
1 pinch salt
1/4 cup pure pumpkin
1 Tablespoon butter
1/2 teaspoon vanilla extract
2 or 3 Tablespoons raisins - optional
I loved it and I'd make it again in heartbeat. It certainly didn't hurt that I topped mine with a generous dollop of whipped cream (highly recommended). With or without the whipped cream (or wow... now I'm thinking ice cream), this is a great hot cereal. It's different enough from oatmeal that it feels new and different, but it's similar enough that you could try it on finicky eaters who won't deviate from their normal hot cereal. This recipe was submitted by spitz123 back in 2010. Normally, I have a suggestion or two to make the recipe better, but in this case, the submitter hit the ball out of the park. Don't change a thing and this is a delicious, hot breakfast with the essence, if not the exact flavor, of pumpkin pie. (Recipe tested and photographed in September 2013.)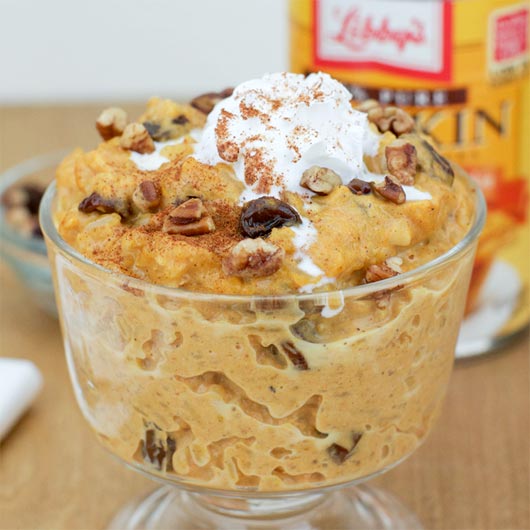 How To Make Brown Rice & Pumpkin Porridge

In a small saucepan, combine the cooked rice, milk, brown sugar, cinnamon, nutmeg, salt and raisins (if using). Bring this mixture to a boil. Reduce heat to medium-low and simmer uncovered for 20 minutes. (This should boil ever so gently with single bubbles coming up every few seconds until about 90% of the liquid has been absorbed by the rice.)

Reduce heat to low and stir in the pumpkin, butter and vanilla. Continue cooking on low for 12 more minutes - stirring occasionally.

Transfer to two serving bowls. If desired garnish with chopped pecans and raisins or, for a special treat, top with a dollop of whipped cream and a dash of cinnamon.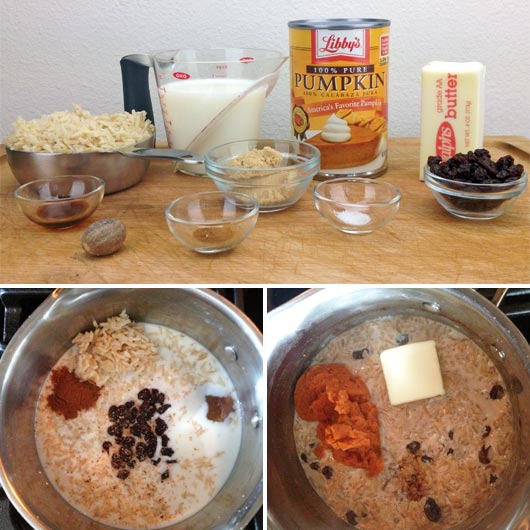 Cooking Note:
If you don't have leftover rice and want to make some specifically for this recipe: Place 2 and 1/4 cups water and 1 cup brown rice in a sauce pan and bring to a boil. Put a lid on the pan and reduce the heat to low. Allow the rice to simmer for 20 minutes. Turn off the heat and let the rice set with the lid on for 10 more minutes. You'll have some rice left over to use later on.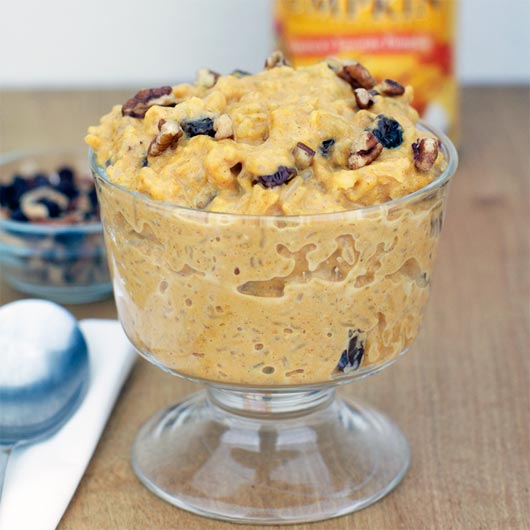 This hot cereal is reminiscent of pumpkin pie. It should win over most oatmeal fans. It's sort of a pumpkin rice pudding you get to eat for breakfast!




Mr Breakfast would like to thank spitz123 for this recipe.

Recipe number 2829. Submitted 5/6/2010.