Green Chocolate Almond Butter Smoothie

(4 servings)

3 cups spinach - washed and patted dry
1/2 cup natural almond butter
1 cup frozen chunks of banana*
2 Tablespoon raw cacao nibs (available in most health food stores)
1 and 1/2 cups ice
4 cups chocolate almond milk
1 teaspoon cocoa powder (optional but recommended)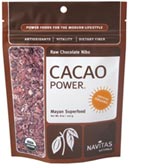 * To make frozen banana chunks, take ripe bananas, peel them, divide them into pieces and freeze them in a freezer bag. (These are great to have around for any kind of smoothie, so consider making extra.)



Chop up the spinach just a little bit so it will blend easier. Place that and all other ingredients in your blender or food processor and pulse until smooth and completely blended.

Note: The idea of sipping a green smoothie and realizing that it tastes like chocolate and almonds is pretty fun. However, the color can be sort of a dull brownish green. Add a single drop of green food coloring and it becomes more vibrant. To make the smoothie creamier, replace a 1/2 cup of the chocolate almond milk with low-fat vanilla yogurt.


This green smoothie tastes like a decadent desert. You won't taste the spinach but you can certainly see it as you enjoy your first Green Chocolate Smoothie.




Mr Breakfast would like to thank SKast for this recipe.

Recipe number 2811. Submitted 4/13/2010.