Susy's Vegan Blueberry Muffins

(10 servings)

2 cups all-purpose flour (or 1 cup all-purpose + 1 cup whole wheat flour)
1/2 cup white sugar
1/2 cup brown sugar
1/4 cup Earthbalance buttery spread - melted
1/2 cup unsweetened applesauce
1 TBSP baking powder
1/4 TSP salt
1/2 cup vanilla soymilk
2 cups frozen blueberries
Preheat oven to 350 degrees. Mix flour, salt and baking powder in one bowl. Mix Earthbalance, sugars, applesauce and vanilla soymilk together in another bowl. Add dry ingredients to wet ingredients and mix until combined (do not overmix). Add blueberries to mixture. Spray muffin pan with Pam or oil and flour. Scoop batter into muffin tins and bake for 30 minutes or until golden brown.

Recipe makes about 12 regular size muffins or 8 biggies.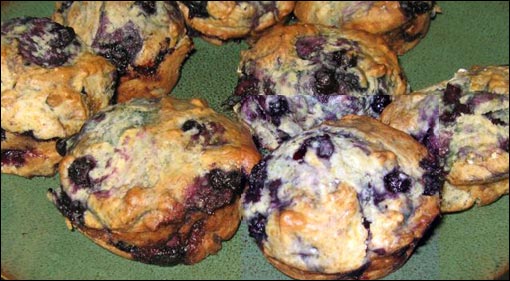 If you want more vanilla flavoring, add 1 TSP vanilla to wet ingredients. Enjoy!




Mr Breakfast would like to thank susyk for this recipe.

Recipe number 2810. Submitted 4/11/2010.