Bacon Breakfast Cookies

(12 servings)

1/2 pound bacon
1/2 cup butter
3/4 cup sugar
1 large egg
1 cup all-purpose flour
1/4 teaspoon baking soda
2 cups multi-grain flakes or corn flakes
1/2 cup raisins
This recipe came to us by way of Jennifer and her great (although unfortunately no long updated) blog called Cookin' in the 'Cuse. The site was a diary of her food discoveries in Syracuse and Central New York.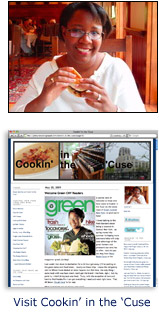 Preheat oven to 350 degrees. Cook bacon until very crisp, drain well and break into 1/2 inch pieces.

Beat together butter and sugar till light and fluffy. Beat in egg. Combine flour and baking soda; stir into butter mixture. Stir in bacon, mult-grain flakes and raisins.

Drop by rounded teaspoonfuls onto ungreased cookie sheet. Space 2 inches apart. Bake for 15-18 minutes. Remove to rack to cool -- about 2 minutes, then remove from rack.


A Note About This Recipe From Jennifer:

"This recipe for Breakfast Cookies, given to me by a wonderful retired woman who owns horses and grows fabulous vegetables next to her New Jersey home, was always the hit of our church coffee hours. They look like what might be cranberry raisin cookies but are instead a sweet and savory crunchy cookie studded with bits of applewood-smoked bacon, raisins and multi-grain cereal. With a cup of coffee or a nice black tea, these are a complete meal. And what a great way to start the day."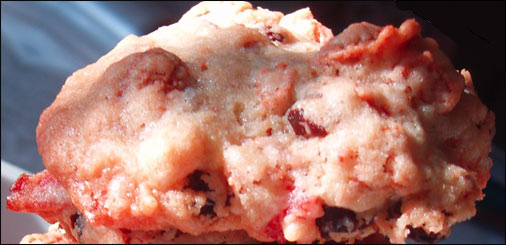 Please Note: This recipe is the property of Cookin' in the 'Cuse. Any requests for publication or commercial use of this recipe should be directed to that website.

A cookie with bacon, corn flakes and raisins. Breakfast ingredients collide to create a sweet treat for anytime. Recipe courtesy of Cookin' in the 'Cuse.




Mr Breakfast would like to thank JenniferCookin for this recipe.

Recipe number 2800. Submitted 3/27/2010.