Banana Wheat Germ Oatmeal

(3 servings)

3 and 3/4 cups water
1 and 1/4 cup old-fashioned rolled oats
2/3 cup toasted wheat germ
1/4 teaspoon salt
3 Tablespoons brown sugar
1 Tablespoon butter
2 medium-sized bananas - sliced into coins
I liked this oatmeal, but I'll admit that I liked it much better after I doubled the amount of butter and added 2 Tablespoons of maple syrup for some added flavor and sweetness. As you might expect, the toasted wheat germ added a warm, toasty flavor. Toasting the wheat germ was easy: Just 4 minutes in a frying pan over medium-high heat - stirring until browned and fragrant. This oatmeal was good with bananas, but I think it would be even better with 1/3 cup raisins in their place. Bottom Line: I'd make it again with the changes I mentioned. (This recipe was submitted in 2010. It was tested and photographed in March 2017.)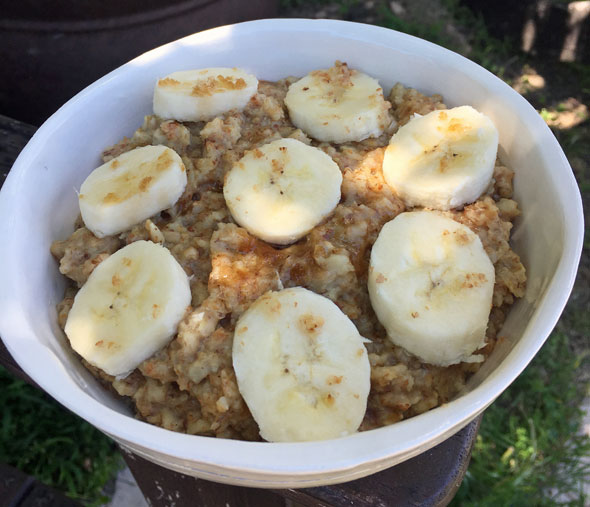 How To Make Banana Wheat Germ Oatmeal

In a medium saucepan over high heat, combine the water, oats, wheat germ and salt. Bring this mixture to a boil - stirring occasionally.

As soon as it reaches a boil, reduce the heat to low. Simmer for 5 or 6 minutes until thickened - stirring occasionally.

Transfer oatmeal to serving bowls. Sprinkle each serving with brown sugar. Swirl 1 teaspoon of butter into each bowl. Top with banana slices. Enjoy!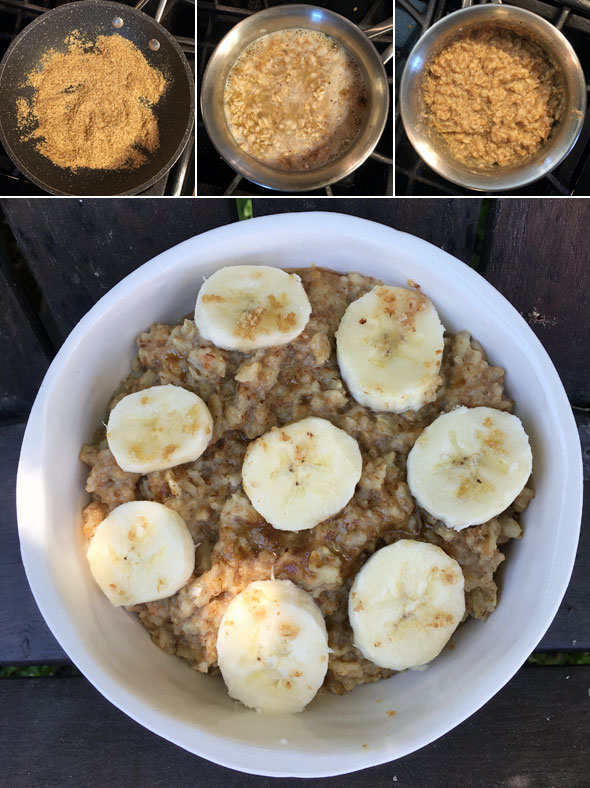 If you need to toast your own wheat germ, just heat it in a skillet over medium-high heat - stirring often - until it smells toasty.




Mr Breakfast would like to thank gifford for this recipe.

Recipe number 2780. Submitted 3/8/2010.