Easy Quiche Lorraine

(6 servings)

1 deep-dish pre-made pie crust from the grocery store
1/2 pound (about 8 slices) bacon - cooked and crumbled
1 and 1/4 cups shredded Swiss cheese
1/2 cup shredded Cheddar cheese
4 large eggs - beaten
1 and 1/2 cups half and half
1/4 teaspoon salt
1/4 teaspoon pepper
1/4 teaspoon ground nutmeg
1/4 teaspoon cayenne pepper
Heat the oven to 425 degrees.

Par-bake the pie crust by placing it the oven for about 5 minutes until just lightly browned. Reduce oven temperature to 375 degrees.

Scatter the bacon pieces over the bottom of the pie crust. Sprinkle the cheeses evenly over the bacon.

In a mixing bowl, combine the eggs, half and half (or milk) and all spices. Stir well to combine.

Slowly, pour the liquid mixture evenly over the ingredients in the pie crust.

Bake at 375 degrees for 40 minutes or until a knife inserted in the center comes out clean.

Let the quiche set for 10 minutes at room temperature. Slice into wedges and serve.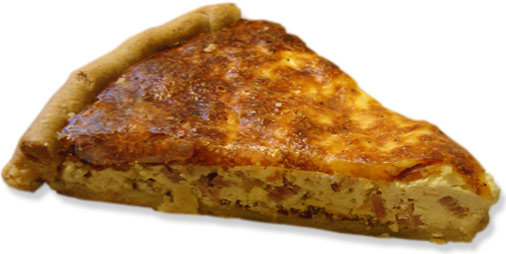 Variations:

You can customize this recipe to fit your tastes. The bacon can be replaced with chopped ham or cooked and crumbled breakfast sausage. The cheese can be any combination you like as long as it adds up to 1 and 3/4 cup.

For a more rustic flavor, saute 1 cup of chopped onions mixed with chopped bell pepper. Cook it down until the vegetables are tender, yielding about 1/3 cup to 1/2 cup when cooked. Let it cool slightly and use it as the bottom layer of your quiche.

Milk can be used in place of the half & half if necessary.

A simple and elegant Quiche Lorraine, or in more manly terms... a hearty bacon and cheese egg pie. Requires a store-bought pie crust.




Mr Breakfast would like to thank bobby for this recipe.

Recipe number 2755. Submitted 2/11/2010.