Fruit & Veggie Breakfast Bran Muffins

(12 servings)

1/2 cup all-purpose flour
1/2 cup whole wheat flour
1 Tablespoon oat bran
2 Tablespoons wheat germ
1/2 cup bran flakes cereal OR Old Fashioned oats
1/4 cup ground flax seed
1 teaspoon baking soda
1 teaspoon baking powder
1 teaspoon ground cinnamon
1/4 teaspoon salt
1 large egg
1/4 cup packed brown sugar (plus extra for topping)
2 Tablespoons olive oil
1 teaspoon vanilla extract
2/3 cup (plus 1 Tablespoon) milk
3/4 cup grated carrots and/or zucchini
3/4 cup fresh or dried fruit - finely chopped (apples/pears/pineapple/dates etc.)
I made my batch of Fruit & Veggie Bran Muffins with a combination of raisins, dried cranberries, dried blueberries and dried mango. I really liked how they turned out. The carrots gave everything a carrot cake feel while the array of berries made the overall flavor more interesting than other bran muffins. I know it's a lot of ingredients. I was hesitant to try it myself. But I was able to put this all together and bake the muffins in under 45 minutes. The only change I made to the recipe as submitted was to add 2 Tablespoons melted and cooled butter in with the wet ingredients. I had a bad experience recently where a lack of oil in a recipe made my muffins stick to the muffin papers. I didn't want to take chances and had no troubles with this batch of muffins. (This recipe was submitted in 2010. It was tested and photographed in February 2014.)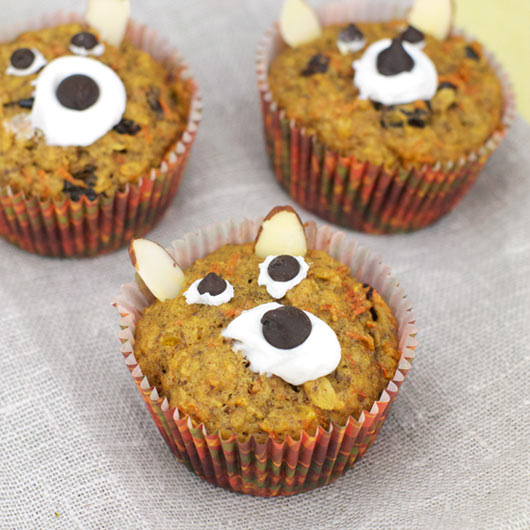 How To Make Fruit & Veggie Bran Muffins

Preheat oven to 350 degrees. Line a 24 cup mini muffin pan with paper liners (or use 12 regular sized muffin papers).

Whisk the flours and all dry ingredients together; set aside. Beat the egg, brown sugar and olive oil in a bowl until smooth. Add the vanilla, milk, fruit and vegetables and mix well. Pour the liquid into the dry ingredients and mix until just blended.

Spoon batter into the muffin cups, until they are about 3/4 of the way full. Sprinkle the tops with brown sugar if desired.

Bake at 350 degrees for 20-25 minutes. Remove from the pan and cool on a rack.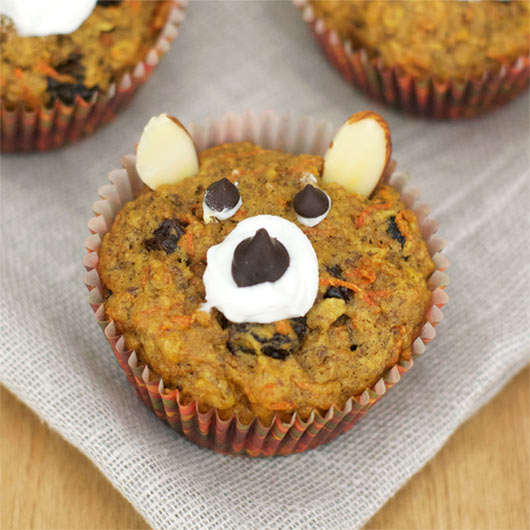 Decorating Note From Mr Breakfast

To give these healthy muffins more of a fun look, I used white icing, chocolate chips and sliced almonds to make them look like Teddy Bears. Kind of fun, right?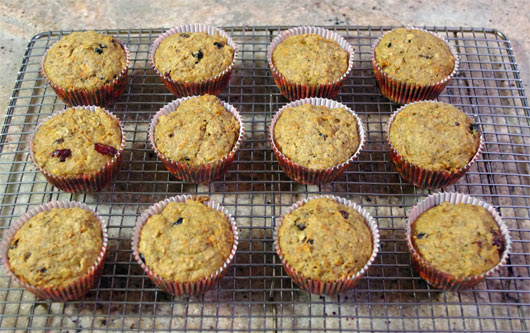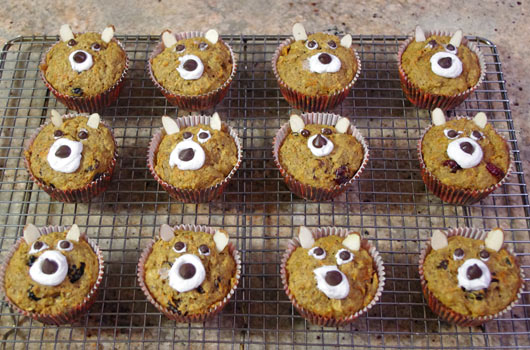 These muffins get an extra burst of nutrition and flavor from grated carrots and/or zucchini. You can adjust the recipe by using the fresh or dried fruits you most prefer.




Mr Breakfast would like to thank HollywoodBacon for this recipe.

Recipe number 2753. Submitted 2/8/2010.