Baked Easy Cheesy Eggs With Mushrooms

(4 servings)

8 ounces button mushrooms - sliced
1 Tablespoon canola or vegetable oil
1/3 cup red pepper - chopped
1 Tablespoon fresh parsley - chopped
1 teaspoon fresh basil - chopped
salt and pepper - to taste
4 large eggs
4 Tablespoons Cheddar cheese (or your favorite cheese)
4 ramekins
This turned out to be a pleasantly rich breakfast. The amount of mushrooms per serving is very generous and you get a beautiful combination of flavors in every bite. I served mine with toast points and baked the cups for 10 minutes so the yolks would still be slightly runny. If you bake for 12 minutes, the yolks are soft but mostly firmed up. Overall, I give this baked egg dish a thumbs-up. I'd make it again for sure. This recipe was submitted by 'Sprinkles C.' in 2009. It was tested and photographed in August 2013.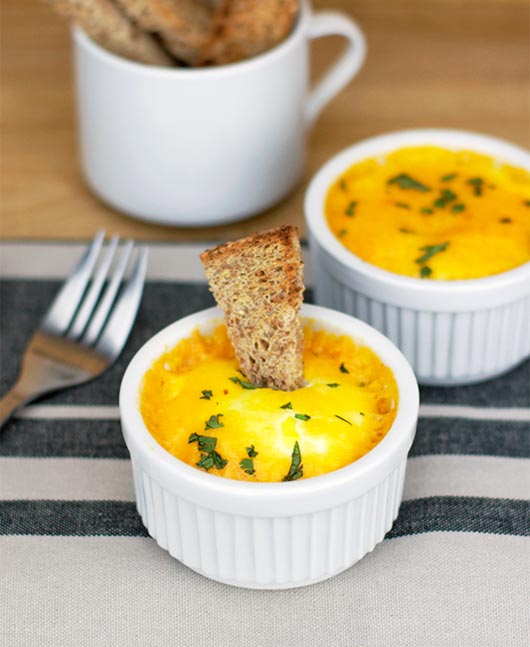 How To Make Baked Easy Cheesy Eggs With Mushrooms

Preheat oven to 350 degrees.

Place a fry pan over medium heat. Saute the mushrooms in a Tablespoon of cooking oil for 5 to 7 minutes until lightly browned and tender. Add the red pepper, parsley, basil, salt and pepper. Stir and cook 1 or 2 more minutes.

Lightly coat the inside of the ramekins with cooking spray. Distribute the mushroom mixture evenly among the ramekins. Crack one egg into each ramekin. Be careful not break the yolks. Sprinkle about a Tablespoon of cheese over each serving.

Bake for 10 to 12 minutes until the whites are firm and the yolks are still runny.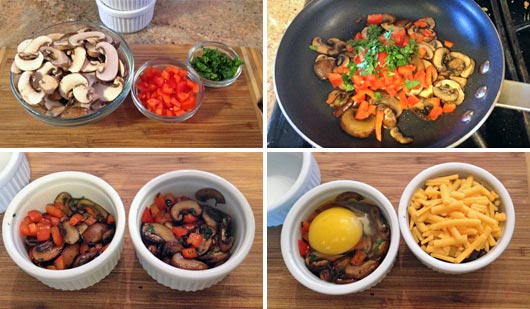 Variation: For more of a Southwestern flavor, replace the parsley and and basil with cilantro and serve each cup with a spoonful of salsa.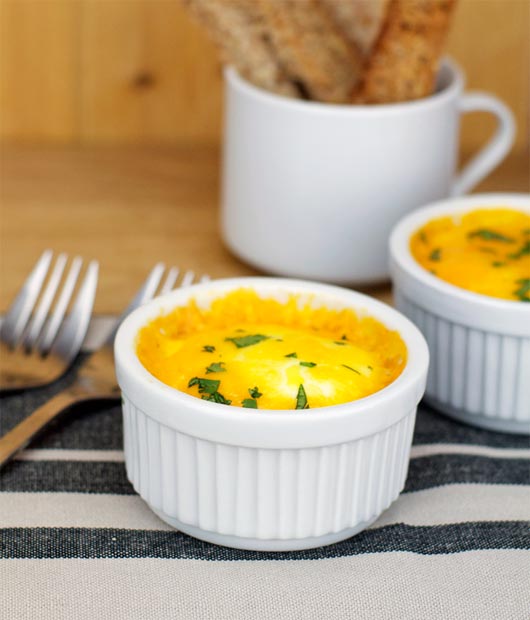 An easy, tasty baked egg recipe. Red bell pepper, parsley and basil add freshness and color to each bite. Best served with toast.




Mr Breakfast would like to thank SprinklesCupcak for this recipe.

Recipe number 2709. Submitted 12/17/2009.