French Toast Christmas Trees

(2 servings)

2 breakfast sausage links
2 eggs
1/4 cup milk
1/4 cup eggnog
1 Tablespoon maple syrup
1 teaspoon vanilla
1 teaspoon cinnamon
1 pinch salt
3 slices of bread
1 Tablespoon butter
green sugar
powdered sugar
2 twigs fresh rosemary
orange slices

On a griddle set to 325 degrees (or frying pan at medium-high), begin browning the sausage links.

In a large mixing bowl, combine the eggs, milk, eggnog, syrup, vanilla, cinnamon and salt. Mix until well combined.

Push the sausage to one side of the griddle and melt a pat of butter to fry the French Toast.

Cut all bread slices in half diagonally. Dredge each piece of bread through the egg mixture - coating completely - and place on the hot griddle. Cook until golden brown on both sides.

For each Christmas Tree...

On a serving platter, place 3 slices of French Toast in a Christmas tree pattern - overlapping slightly (top tip over wider base).

For the tree trunk, place a sausage at the bottom and tuck it partially under the bottom piece of French Toast.

Sprinkle each piece of a bread with green sugar and powdered sugar.

Garnish with fresh rosemary (as grass beneath the tree) and 1/2 of an orange slice (as the sun rising behind the tree by wedging it next to the top slice of bread).

Tip: Set out a dish of dried cranberries and golden raisins - and let your children "decorate" the trees!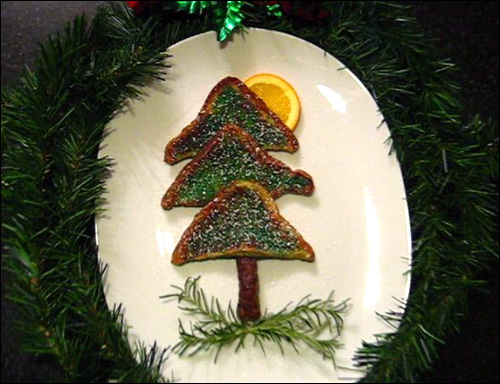 You could use any French Toast batter for this recipe. Placement of French Toast and few sprinkles of sugar turn a regular breakfast into a plate of holiday fun.




Mr Breakfast would like to thank Mr Breakfast for this recipe.

Recipe number 2697. Submitted 12/5/2009.