Grab And Go Breakfast Bars

(16 servings)

1 cup oats (Old Fashioned or quick-cooking)
1 cup shredded wheat or Grape-Nuts cereal (or a combination of the two)
1 cup walnuts
1 1/2 cups dried fruit or raisins (apricots and cranberries work great)
1/2 teaspoon ground cinnamon
1/2 teaspoon salt
2 large eggs
1/3 cup honey
1 teaspoon vanilla extract
1/2 cup mini chocolate chips - optional
This is a fun recipe... very different from traditional granola-style breakfast bars. The trick is pulverizing most of the ingredients in a food processor. The mixture taste great even before you bake it. I'd recommend having a taste before baking to see if you want to use the optional chocolate chips. My mixture was quite sweet and super flavorful so I decided not to use them. Overall, these bars were easy to make and I loved the slightly chewy texture of the final product. (This recipe was submitted in 2009. It was tested and photographed in November 2015.)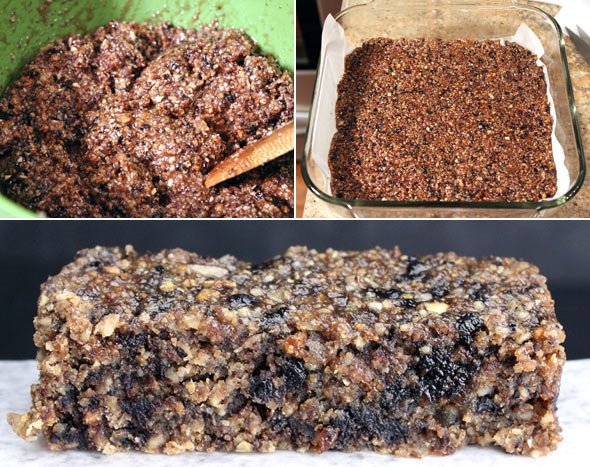 How To Make Grab And Go Breakfast Bars

This recipe makes about 16 bars.

Preheat the oven to 350 degrees. Prepare an 8 x 8-inch baking pan by spraying the inside lightly with nonstick cooking spray.

Place the oats, shredded wheat (or Grape-Nuts), walnuts, dried fruit, cinnamon, and salt in a food processor and pulse until the mixture is finely chopped.

In a large bowl, whisk together the eggs, honey, and vanilla. Add the oatmeal mixture and chocolate chips (if using) and stir to combine.

Transfer to the baking pan and flatten down gently with the back of a spoon or spatula to spread evenly.

Bake about 20 minutes until the edges are golden brown and appear somewhat dry.

Let the dish cool completely before slicing into single-serving bars.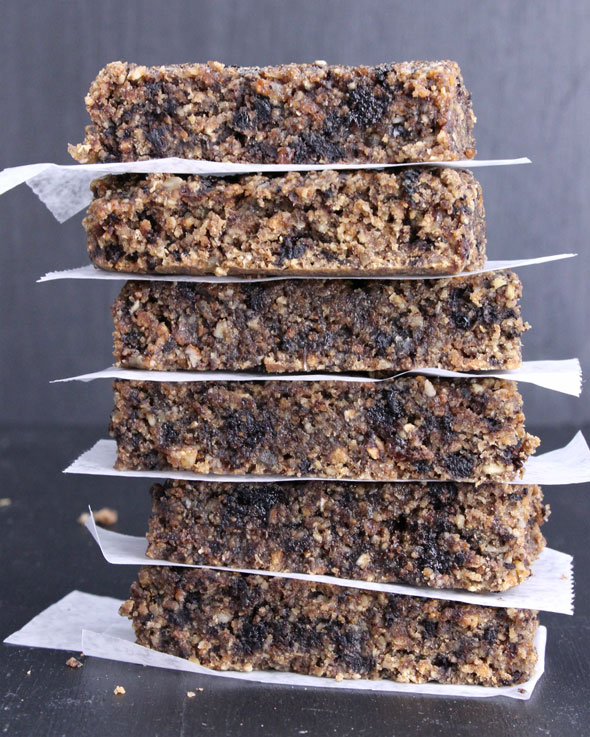 Cooking Notes From Mr Breakfast:

For my dried fruit, I used a combination of blueberries, pineapple and raisins. For the cereal component, I opted for Grape-Nuts. As a precaution to keep the bars from sticking to the pan, I lined the bottom of the pan with parchment. That probably wasn't necessary, but it's a great technique if you want to play it safe.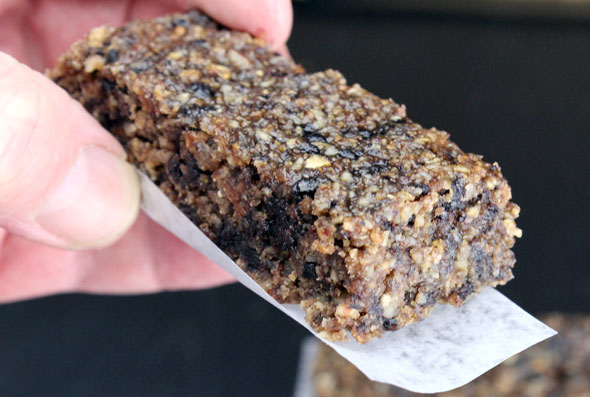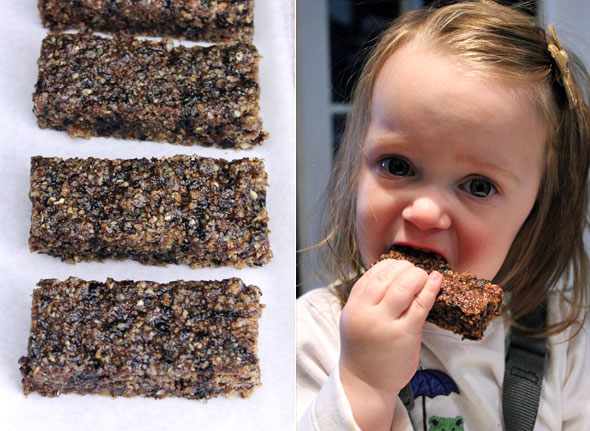 These bars freeze well. Wrap leftover portions in plastic wrap or aluminum foil and store in freezer for up to 2 weeks. Each bar has about 170 calories and 7 grams of fat (1.5 grams saturated fat).




Mr Breakfast would like to thank lilco0408 for this recipe.

Recipe number 2687. Submitted 11/23/2009.