Chocolate Breakfast Crepes

(2 servings)

2/3 cup all-purpose flour
1/3 cup sugar
1 teaspoon unsweetened chocolate powder
1 large egg
1 egg white
1/4 cup vegetable oil
1/4 cup skim milk
I found these crepes to be tasty and easy to make. I did wish that they were a little more chocolate-brown in color, but that's my only complaint. After the batter had set for a couple hours, I did have to add about 2 Tablespoons more milk to get a nice flowing consistency to make crepes in a pan. This recipe made 1 cup of batter which yielded six 8-inch crepes. For my recipe tests, I topped some with whipped creme and chocolate sauce and filled others with strawberry buttercream and chocolate peanut butter. Overall, I enjoyed these and I'll probably make them again. (This recipe was submitted in 2002. It was tested and photographed in October 2015.)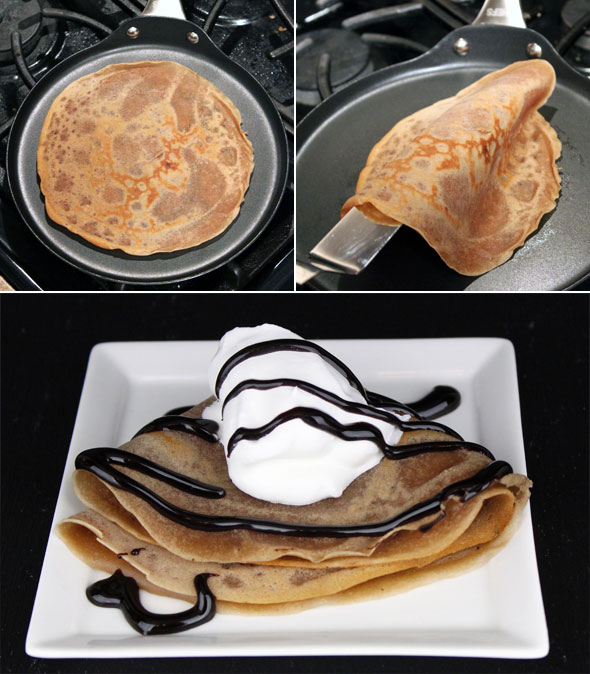 How To Make Chocolate Breakfast Crepes

Mix all dry ingredients together in a mixing bowl. Add all liquid ingredients and stir until batter is smooth and creamy.

Let batter rest in the refrigerator until the air is settled, about 2 hours. When ready to prepare crepes, heat crepe pan over medium heat and pour 1/3 to 1/4 cup of the batter into hot pan. Rotate pan until batter is cooked through and then turn to cook the other side.

When done remove from pan and let cool on a rack. Store until ready to serve. May be made one to two days ahead of time.

Fill with seasonal fresh fruits, sorbet, and garnish with flowers from the garden!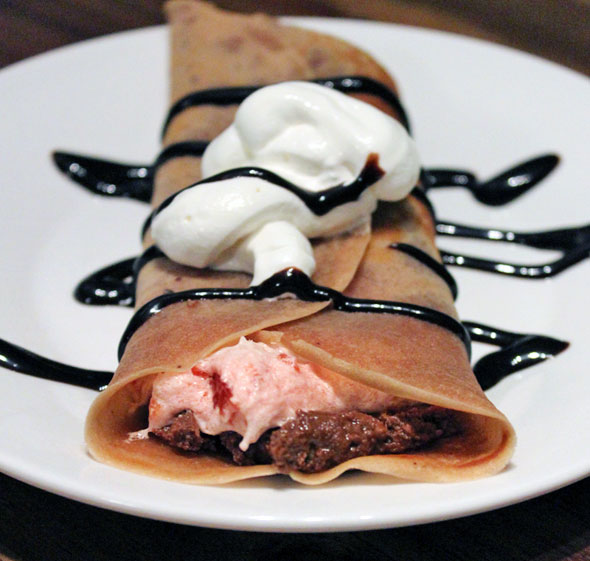 About This Recipe:
This is a specialty of the Blue Harbor House Bed and Breakfast in Camden, Maine. They really appreciate breakfast there. Other dishes they serve include a chocolate breakfast taco, berry-stuffed fat-free French toast, and blueberry pancakes with blueberry butter. Kind of makes you want to live there.

With little more than a dash of cocoa powder, regular crepes become chocolate crepes ready to embrace homemade preserves or your favorite topping.




Mr Breakfast would like to thank The Boss for this recipe.

Recipe number 265. Submitted 5/7/2002.