Pumpkin Biscotti

(24 servings)

3 and 1/2 cups all-purpose flour
1 and 1/2 cups firmly packed brown sugar
2 teaspoons baking powder
1/2 teaspoon salt
2 teaspoons pumpkin pie spice*
1/2 cup pumpkin puree
2 large eggs - lightly beaten
1 Tablespoon vanilla extract
2 Tablespoons butter or margarine
1 and 1/4 cups coarsely chopped nuts - (pecans/almonds/walnuts work well)
cooking spray
4 ounces white or dark chocolate (optional)
I had some leftover pumpkin hanging around from Halloween baking, so I finally decided to try this recipe which was submitted to the site back in 2009. Despite the directions seeming quite long, I found this recipe easy to prepare. Basically, you mix the dough, roll it into logs, bake it, slice it and then bake it again. I was worried before I sliced the "logs" into pieces, because the tops looked like split-topped rustic bread. But once they were sliced, it looked exactly like you'd hope biscotti would look. I'm happy to report that these biscotti taste great. The pumpkin really shines through. The amount of nuts was just right. The optional chocolate drizzle was the prefect finishing touch. While not traditionally considered a breakfast item, I'm glad this recipe was was submitted. It worked great and I wouldn't hesitate to make it again. (This recipe was tested and photographed in November 2016.)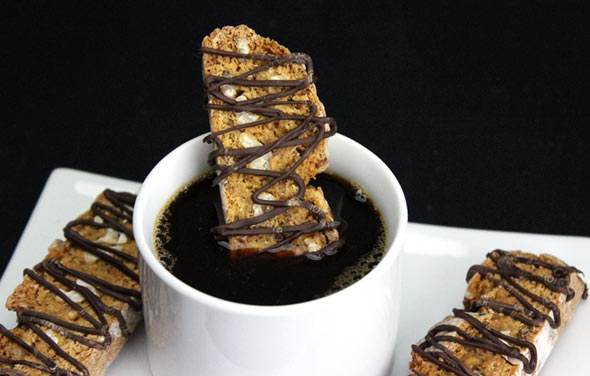 How To Make Pumpkin Biscotti

Preheat oven to 350 degrees F.

Melt butter in a large skillet over medium heat; add nuts. Cook, stirring constantly, until nuts are lightly browned. Remove from heat and cool completely.

Combine flour, brown sugar, baking powder, salt, and pumpkin pie spice in a large bowl; stir well. In another bowl, combine pumpkin, eggs, and vanilla, stirring well with a wire whisk.

Slowly add pumpkin mixture to flour mixture - stirring until dry ingredients are moistened. (Mixture will be very crumbly; it will gradually become moist after stirring.)

Knead the cooled nuts into dough. Place dough on a lightly floured surface and divide into 2 portions. Spray your hands with cooking spray, and shape each portion into a 2 x 10" long log. Place logs 3" apart on lightly greased cookie sheet. Bake for 24 minutes; cool logs 15 minutes.

Reduce oven temperature to 300 F. After the biscotti loaves have cooled, move a loaf to a cutting board and cut diagonally into 1/2" thick pieces. Do the same to the other loaf. The interior should still be just a little moist (while the exterior is nice and hard).

Place the biscotti with a cut side facing up on a half sheet pan and bake for 10 minutes. Flip all the biscotti over so the other cut side is now facing up. Bake for another 10 minutes (Keep an eye on these as they brown so they don't get too dark.) Set all the pieces on a wire rack to cool making sure that none of the biscotti are touching each other.



Please Note: If the biscotti still looks underdone in the middle, it is okay to bake another 5 or 10 minutes, just as long it never gets over-brown.



Once the biscotti have fully cooled, they can be consumed as is, or dipped in melted dark or white chocolate. I like to dip just one tip in chocolate, or you can drizzle a light zig-zag coating of chocolate over the whole biscotti.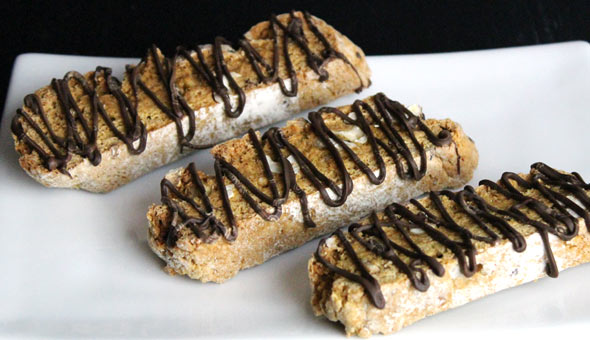 * If you don't have pumpkin pie spice, you can make some by mixing 1 teaspoon cinnamon, 1/2 teaspoon ground clove and 1/2 teaspoon nutmeg.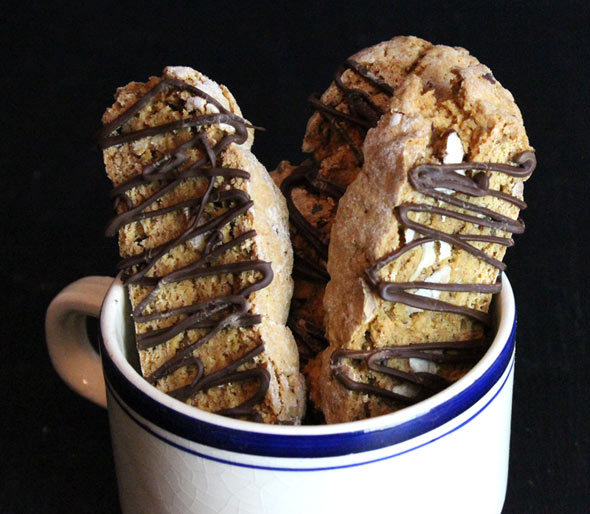 GREAT holiday treat OR gift! So wonderful to serve with coffee as a simple breakfast treat!




Mr Breakfast would like to thank HollywoodBacon for this recipe.

Recipe number 2648. Submitted 10/26/2009.