Breakfast In A Mug

(1 serving)

2 teaspoons butter
1 Tablespoon milk
2 large eggs
salt and pepper to taste
2 Tablespoons shredded cheese
It's incredibly easy to make scrambled eggs in the microwave. If it's simply eggs and cheese, it turns out just as good as pan-scrambled eggs. (If you're adding vegetables or meat, it's best to still use your stove top.) The only change I might make to this recipe as it was submitted would be to stir the cheese into the scrambled eggs in the last step for a bit more even cheese distribution. Word of warning: If eating directly out of the mug, expect the eggs to be very hot in the middle. Bottom Line: This recipe works, tastes great and I liked it a lot. (This recipe was submitted in 2009. It was tested and photographed in June 2017.)


How To Make Breakfast In A Mug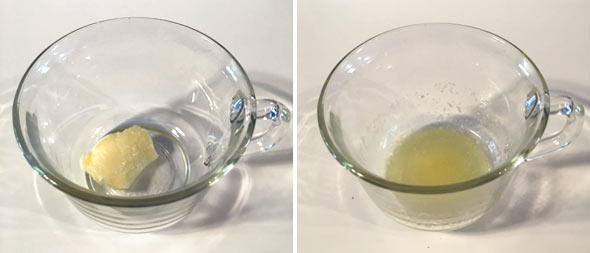 Place the butter in a large microwave-safe mug. Microwave on high about 15 seconds until melted. Swirl mug to coat bottom and sides.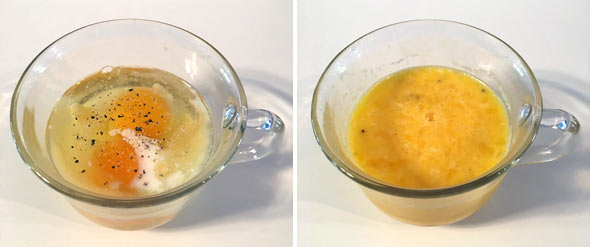 Add the milk, eggs, salt and pepper, and whisk with a fork.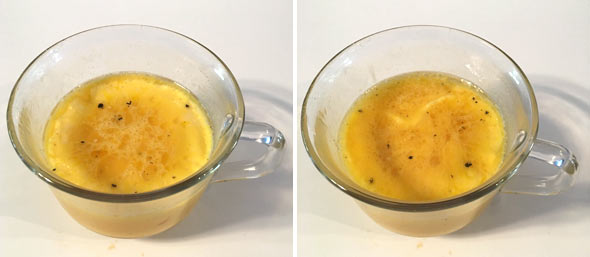 Microwave on high about 30 second until it just begins to set. Give it a quick stir with a fork.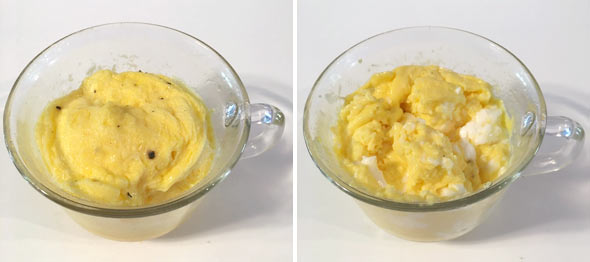 Microwave for about 30 seconds until almost completely set but still moist (your microwave may cook faster or slower, so be sure to check the eggs occasionally while cooking).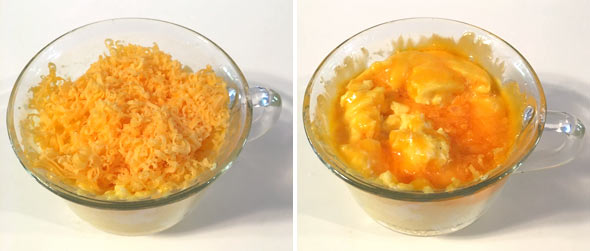 Remove eggs from microwave and sprinkle with cheese. Let sit for one minute to let cheese melt (or microwave another 10 seconds).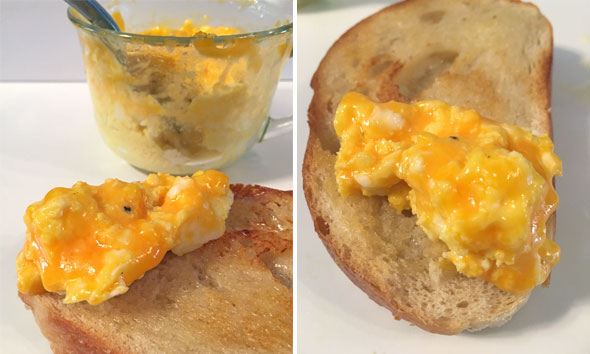 Enjoy!


How to make cheesy scrambled eggs in a mug in about 2 minutes using a microwave.




Mr Breakfast would like to thank florida222 for this recipe.

Recipe number 2625. Submitted 9/17/2009.