Low Fat Nutmeg Waffles

(4 servings)

1 1/4 cup all purpose flour
1 teaspoon baking powder
1/4 teaspoon baking soda
1 teaspoon ground cinnamon
1/2 teaspoon salt
1/2 teaspoon ground nutmeg (freshly ground if possible)
1 egg (lightly beaten)
1 cup fat free milk
1 Tablespoon canola oil
1 teaspoon vanilla extract
butter & maple syrup for serving (optional)
I love nutmeg. It reminds me of my two favorite things: Christmas and donuts (not necessarily in that order). Nutmeg is a very strong spice. Even though the directions call for just a 1/2 teaspoon, the flavor of nutmeg permeates each bite. When the holidays roll around, consider adding 1/2 teaspoon of ground cloves. Your kitchen will smell like a Christmas air freshener as the waffles bake. I did make one adjustment (not reflected above) to the recipe as submitted. I found that adding 2 Tablespoons of sugar helped the overall flavor. (This recipe was submitted in 2009. It was tested and photographed in September 2014.)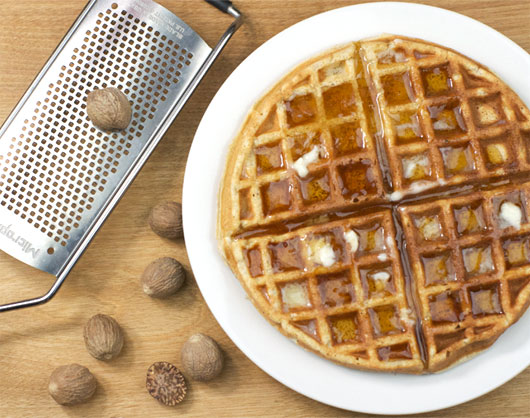 How To Make Low Fat Nutmeg Waffles

In a small bowl, combine flour, baking power, soda, cinnamon, salt, and nutmeg. In another bowl, combine milk, egg, oil and vanilla; stir into the dry ingredients until well combined.

Bake in a preheated waffle iron according to the manufacturers directions. (Most recommend NOT using cooking spray if it's already non-stick, however I use cooking spray for this recipe because there's so little oil in the batter.) Cook until golden brown and lid lifts easily.

Serve with butter and maple syrup.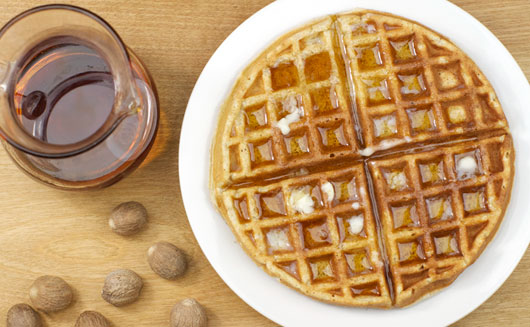 2 waffles (without butter & syrup) have 198 calories and 3 grams of fat (1 g saturated.) You can reduce the fat by using egg whites or egg substitute if you desire.




Mr Breakfast would like to thank HollyMartel for this recipe.

Recipe number 2591. Submitted 7/30/2009.