Vetkoek (South African)

(3 servings)

1 cup plain or self-raising flour
1 teaspoon baking powder (skip if you're using self-raising flour)
1 egg
milk and water
pinch of salt
oil for frying
"Vetkoek" translates to English as "fat cake". It's basically a simple fried dough. It falls somewhere between a doughnut and a pancake in terms of taste and texture. Try serving a batch with a small bowl of maple syrup as a dipping sauce. They're also terrific split and served with butter and jam. If you make them a bit larger than the recipe indicates, they also make fantastic homemade buns for sandwiches and burgers.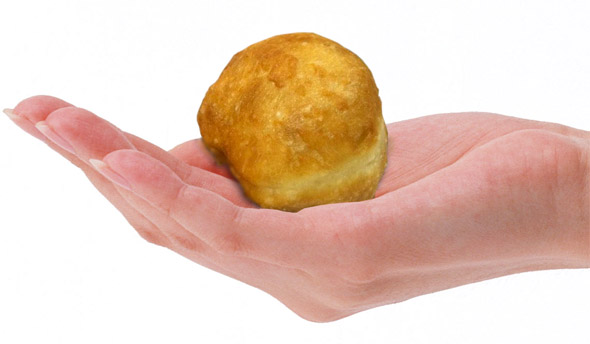 How To Make Vetkoeks

Sift together the flour, baking powder and salt. Make a little hole in the flour-mound, whisk the egg and add it to the hole. Get your milk and water and add it little by little, whisking it all together, until the batter has roughly the same consistency as pancake mix.

Heat about half an inch of oil in a large pan or skillet. Now's a good time to get an apron unless you plan on tossing your clothes! Test it with a drop of batter, when it hisses it's perfect.

Drop dollops in with a tablespoon and fry, turning regularly until they're golden brown. Depending on the size of your pan, and as your turning skills improve, you can fry two or more at the same time.

Drain on wads of kitchen towel, split open with a fork and enjoy!

Note From Recipe Submitter:

My mom used to make this on rainy days as a treat, and she would just keep them coming. There was always left over, and later with coffee you could just chow them cold like brioche- tastes great!

Really easy, and still decadent, it's a recipe you're not going to forget!


A South African favorite! Can be served hot with syrup, or more traditionally with jelly and cheese, or even with some leftover chili or bolognese if you don't have a sweet tooth.




Mr Breakfast would like to thank emla19 for this recipe.

Recipe number 2580. Submitted 7/14/2009.