Bacon-Wrapped Breakfast Links

(4 servings)

4 slices of bacon (the thinner the better)
8 breakfast sausage links
pure maple syrup (about 1 Tablespoon)
8 toothpicks
This is a fun recipe. It works and it tastes great. If you're looking for a simple, tasty way to combine bacon and sausage, you've probably come to the right page. However... our taste testers agreed that eating bacon and breakfast links separately is an overall better experience. The bacon doesn't crisp to its full potential when it's wrapped around sausage. The maple syrup is a nice bridge between the two meat flavors, but the awesome greatness of bacon and the supreme wonderfulness of sausage just work better in separate mouthfuls. That said, I liked this recipe and might make it again when I want some smoky, delicious novelty served with my eggs or pancakes. (This recipe was submitted in 2009. It was tested and photographed in May 2015.)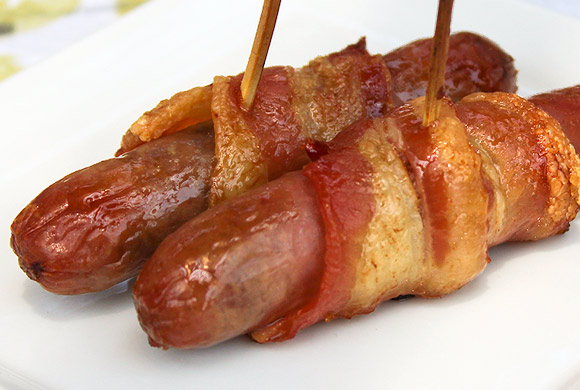 How To Make Bacon-Wrapped Breakfast Links

Preheat oven to 325 degrees.

Cut each strip of bacon in half width-wise. Wrap each sausage link with a half strip of bacon. Poke a toothpick through each link to hold the bacon in place.

Place the links on a cookie sheet lined with parchment paper. Bake for 25 minutes.

Temporarily remove the cookie sheet from the oven. Drizzle each link generously with maple syrup. Bake for 20 to 25 minutes more.

If you like, serve the links with the toothpicks still inserted so they act as little handles.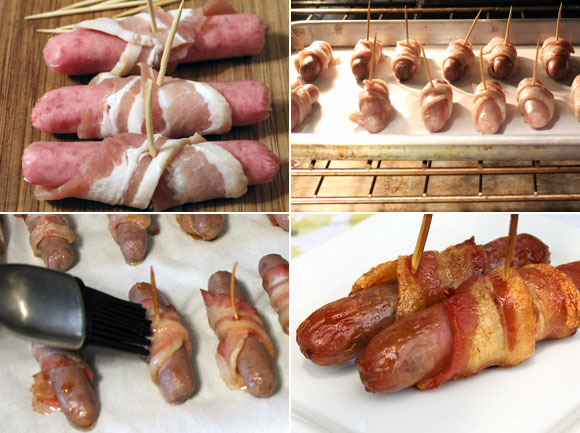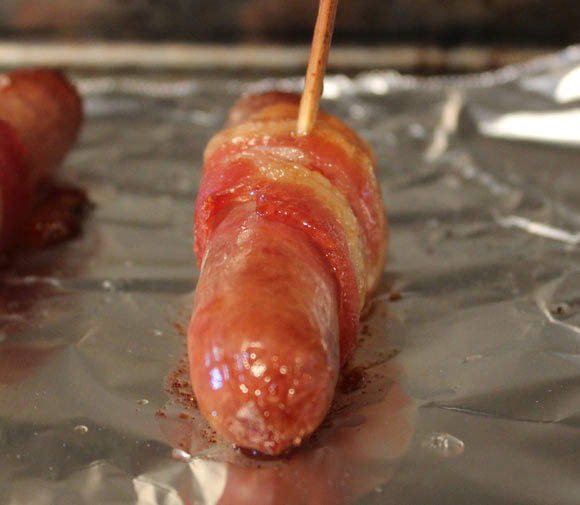 This recipe is actually called Maple-Glazed Bacon-Wrapped Breakfast Sausage Links, but the MrBreakfast.com recipe input wouldn't let me put in that long of a title. But whatever the title, this is a delicious breakfast side dish treat.




Mr Breakfast would like to thank TexasJen for this recipe.

Recipe number 2576. Submitted 7/7/2009.