Blueberry Breakfast Parfait

(2 servings)

1/2 cup no-fat or low-fat vanilla yogurt
1 cup fresh blueberries (or thawed frozen berries)
1/2 cup granola breakfast cereal
whipped cream - optional
I love this recipe because it's so quick and tastes indulgent despite the healthy ingredients. If blueberries are in season, this is a great way to spotlight their flavor. This recipe was submitted by 'MichiganDan' in 2009. I tried it and photographed it in June 2013. There's never a reason to skip breakfast when you can find recipes as fast to prepare as this one.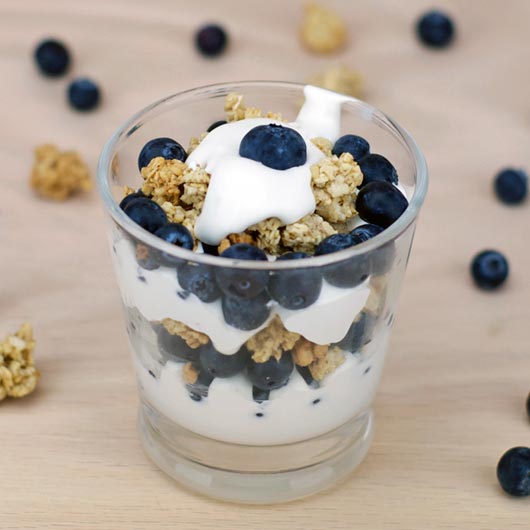 How To Make A Blueberry Breakfast Parfait

Take two small serving glasses. In each glass, dollop a spoonful of yogurt, sprinkle a layer of berries, followed by a spoonful of cereal. Repeat layers until all ingredients are used. Top with whipped cream if desired.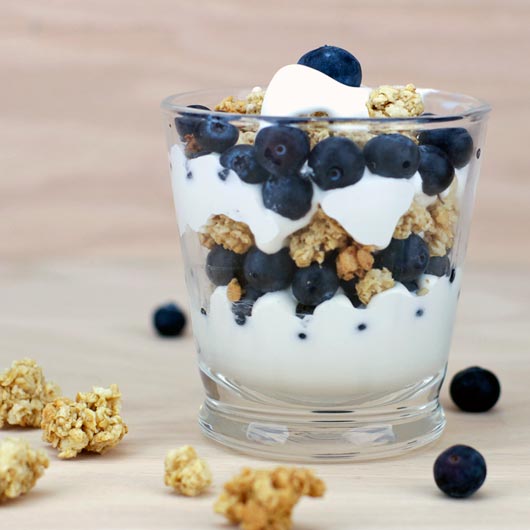 You could combine the blueberries with other seasonal berries. Other variations: try other cereals (even Cap'n Crunch) and berry-flavored yogurts.




Mr Breakfast would like to thank MichiganDan for this recipe.

Recipe number 2560. Submitted 6/1/2009.