Peanut Butter Banana Bread

(12 servings)

1 and 3/4 cups all-purpose flour
1 teaspoon baking soda
1/2 cup butter - softened
1 cup sugar
2 large eggs
3/4 cup peanut butter (creamy or chunky)
2 medium ripe bananas - mashed
Everybody in our office liked this bread. Some thought it was perfect as is. Others (myself included) thought the banana flavor overpowered the peanut butter and the bread was a little too sweet. If I make this again, I will increase the peanut butter by 1/4 cup and cut the sugar by 1/3 cup. As written, this recipe makes a nice moist bread that isn't crumbly as some banana breads can be. I liked it warm with a smear of butter. I liked it even better with a smear of peanut butter - for a double peanut butter experience. (This recipe was submitted in 2009. It was tested and photographed in January 2017.)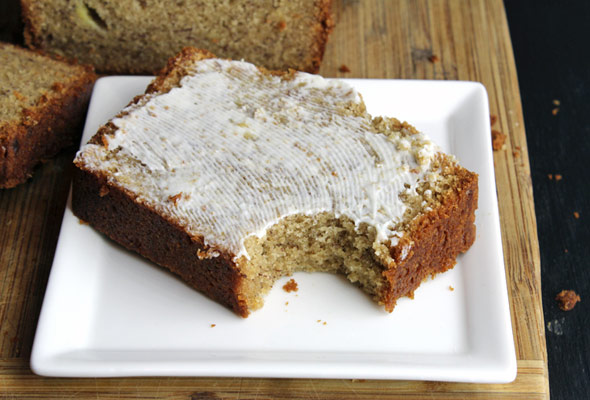 How To Make Peanut Butter Banana Bread

Preheat oven to 325 degrees.

Prepare a 5x9 inch loaf pan by spraying the inside generously with cooking spray.

In a medium bowl, mix the flour with the baking soda.

In a large mixing bowl, cream together the butter and the sugar. Add the eggs and beat well. Add the flour and baking soda mixture, peanut butter and bananas and beat until just combined. Transfer batter to the loaf pan.

Bake for 1 hour and 20 minutes. After 40 minutes cover the top of the loaf pan with foil to prevent over-browning. Test for doneness by inserting a toothpick into the center of the loaf. If it comes out clean (no batter) then the bread is done.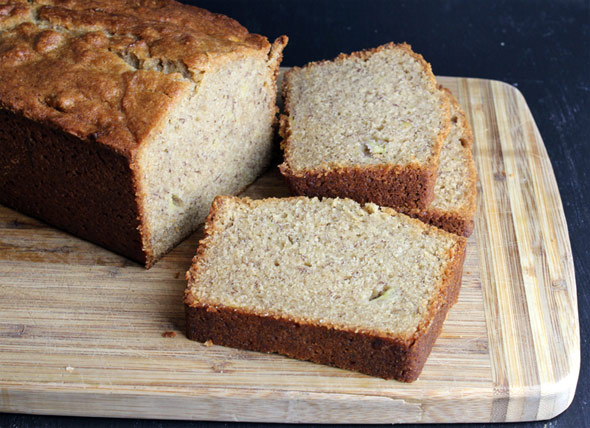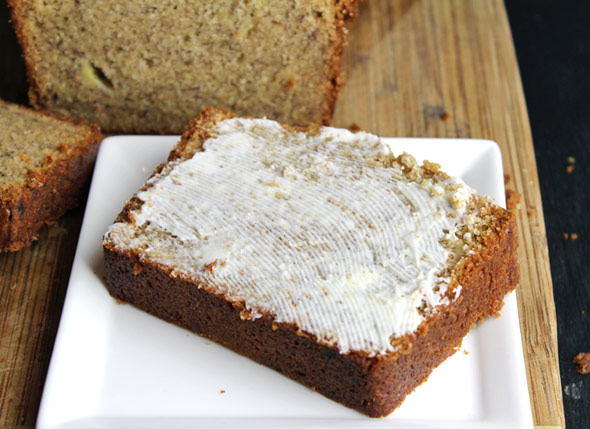 You can play with this recipe by folding chocolate chips or crushed nuts into the batter.




Mr Breakfast would like to thank newjerseygal for this recipe.

Recipe number 2555. Submitted 5/20/2009.