Oatmeal Smoothie

(1 serving)

1 cup apple juice
1 frozen banana
3 heaping Tablespoons of uncooked oats
3 Tablespoons of maple syrup
additional frozen fruit if desired (example 5 frozen strawberries)
People commenting on this recipe seem to like this smoothie more than I did. It was fine, but I don't think I'd make it again. I found that 3 Tablespoons of maple syrup was way too much. I'd recommend reducing that to 1 Tablespoon. On the plus side, the texture of the smoothie was good. The oats break down to become more of a thickening agent than anything else. So be advised: I (Mr Breakfast) am ambivalent about this recipe... but as you can see in the comments below, many people love it. I'd suggest you try another recipe on this site called Banana Oatmeal Smoothie. That's a drink I can vouch for. (This recipe was submitted in 2002. It was tested and photographed in February 2014.)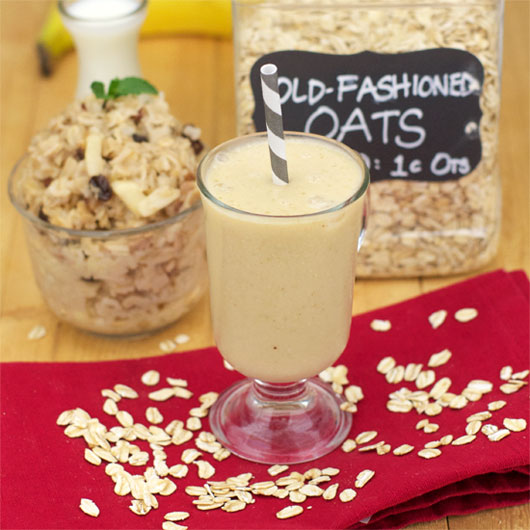 How To Make An Oatmeal Smoothie

Put everything in blender and blend until smooth.



If your banana is not frozen, add 3 or 4 ice cubes to the mix.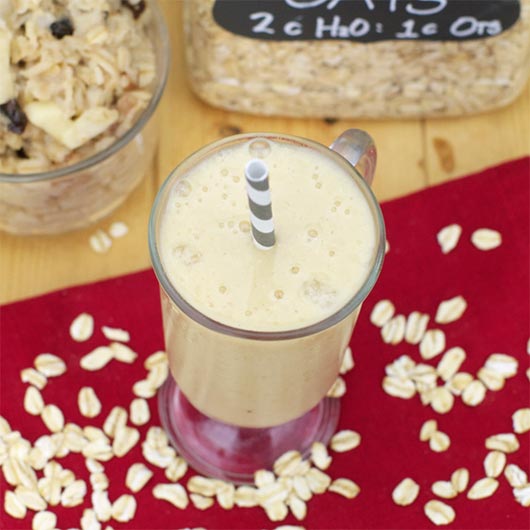 Heart healthy oats and maple syrup make this banana apple smoothie unique. A tasty, smart way to start the day.




Mr Breakfast would like to thank susan for this recipe.

Recipe number 255. Submitted 5/7/2002.