Salsa Omelet

(1 serving)

3 large eggs
1 Tablespoon milk
2 Tablespoon of your favorite salsa
1/4 grated Pepper Jack or Cheddar cheese
salt and pepper - to taste
butter for frying
This omelet is very convenient. If you use a decent salsa, you get a big flavor as if you put in a lot more effort. Instead of sauteing onions and stewing tomatoes, you just spoon a little salsa inside. Easy, breezy and delicious. I opted to use shredded Cheddar cheese in mine. I thought it was great breakfast. (Recipe was submitted in 2009. It was tested and photographed in December 2013.)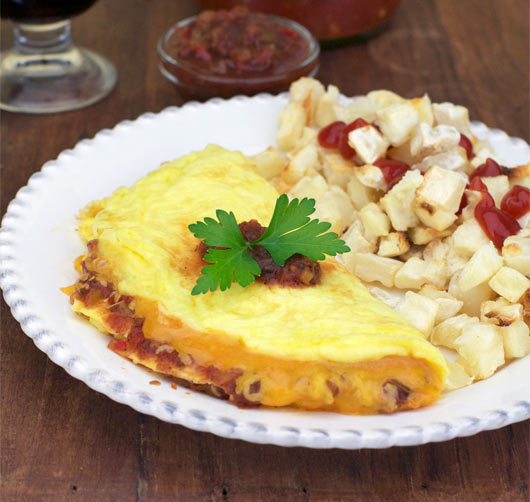 How To Make A Salsa Omelet

In a medium mixing bowl, combine the eggs with the milk and a light sprinkling of salt and pepper. Beat until frothy.

Place a medium skillet over medium heat and melt the butter.

Pour egg mixture in the skillet. When the eggs are almost completely set, spoon salsa down one side of the omelet and sprinkle cheese over the salsa. Fold the the empty side of the omelet over the side with the ingredients. Turn off heat, cover skillet and allow omelet to set for 1 or 2 more minutes until cheese is melted.

Serve immediately with additional salsa on the top if desired.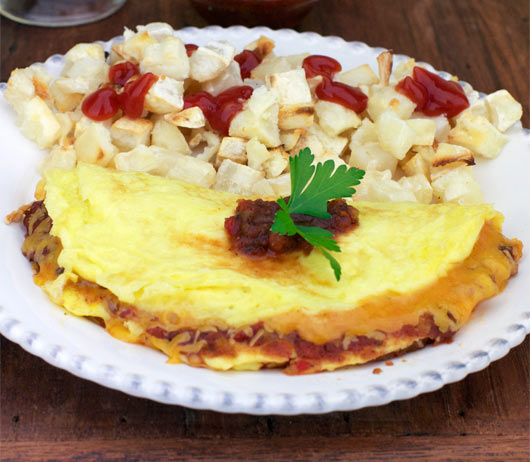 This makes one big South Western-tasting omelet. I like it best with warm tortillas so I can make little burritos as I'm eating. I'd love to hear what salsa people like best. I usually use chunky medium salsa from Pace.




Mr Breakfast would like to thank Bennett for this recipe.

Recipe number 2524. Submitted 3/11/2009.