Lemon Coffee Cake

(8 servings)

1/2 cup sugar
1/2 cup butter - melted
2 large eggs
1 5-ounce container vanilla yogurt (about 1/3 cup)
2 cups all-purpose flour
2 teaspoons baking powder
1/2 teaspoon salt - omit if using salted butter
2/3 cup lemon curd*
3/4 cup fresh or frozen (and thawed) raspberries - optional
When this recipe was first submitted back in 2009, it included a recipe for lemon frosting to put on top. I've gotten rid of that because this coffee cake doesn't need frosting. It's awesome as is. I've adjusted the recipe over the years. What you see here is the tested, recommended recipe. I've listed the raspberries as optional, but they really make this coffee cake taste fresh. If you got 'em, us 'em. (This recipe was tested and photographed in January 2014.)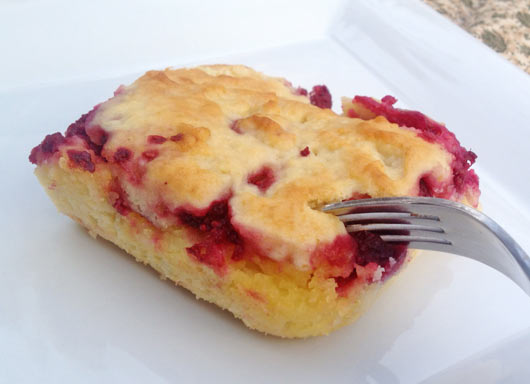 How To Make A Lemon Coffee Cake

Preheat oven to 350 degrees. Prepare an 8x8-inch baking dish with a generous coating of cooking spray.

In a medium mixing bowl, beat the sugar with the melted butter. Add the eggs one and at a time, continuing to beat until will combined. Mix in the vanilla yogurt.

In a separate large bowl, combine the flour, baking powder and salt and mix well.

Add the wet ingredients to the dry ingredients and mix until just combined and moistened.

Pour half of the batter into the prepared pan. Spoon the lemon curd over the batter and flatten to an even layer with a rubber spatula. Sprinkle berries evenly over that. Cover with the remaining batter.

Bake for 30 minutes or until a toothpick inserted into the center comes out dry.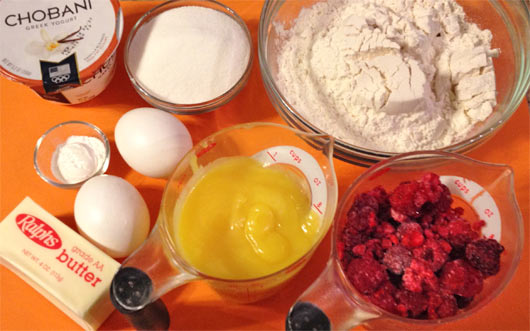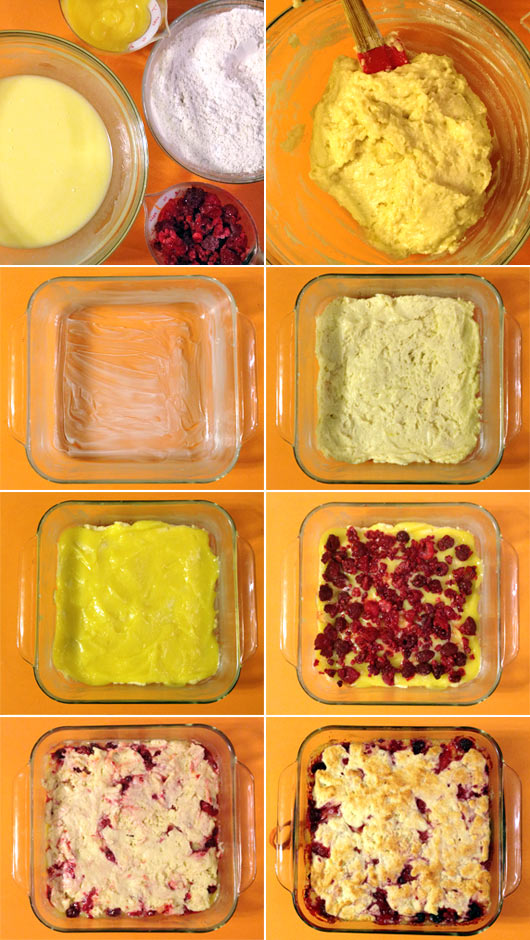 Cooking Notes:

* If you don't have store-bought lemon curd, consider making your own with this great recipe for Homemade Lemon Curd.

The beauty of this coffee cake is that it has a strip of moist (almost creamy) lemon flavor running through the middle. It may seem like the middle of the coffee cake didn't cook through completely, but that's just the lemon curd moistening part of the cake.

Be sure to thaw and drain any berries that you add.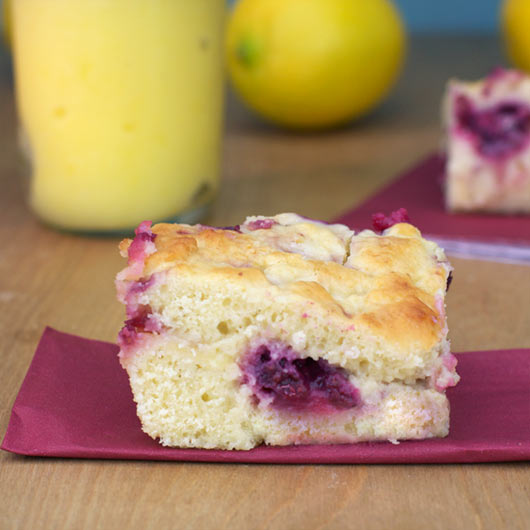 A tasty layer of lemon curd and raspberries runs through the middle of this delightful coffee cake. For variation, try replacing the raspberries with equal amounts of sliced strawberries or blueberries.




Mr Breakfast would like to thank SweetHoney for this recipe.

Recipe number 2518. Submitted 3/2/2009.