Minnie Pearl's County Breakfast

(6 servings)

6 slices bacon
4 cups cubed cooked potatoes
1/2 cup chopped green pepper
2 Tablespoons chopped onion
6 eggs
1 cup grated sharp Cheddar cheese
This was a confusing recipe. In the end, it tasted great. But I'll never be sure if I did it right. I followed the directions and sauteed the potatoes, onions and peppers. But the step that tells you to break eggs over the potatoes is imprecise. Do you break the shells and leave the whites and yolks in tact? Or do you break the yolks? I chose to keep the yolks in tact. The result was yolks that were mostly cooked through and solid... yet tender. The cooking time was little longer than most eggs like and that led to the bottoms being just a little tough. Next time, I would beat the eggs with milk and add them to the potatoes. But with the confusion and minor complaints aside, this dish did have a lot of flavor and did remind me of an old fashioned country breakfast. (This recipe was submitted in 2009. It was tested and photographed in March 2017).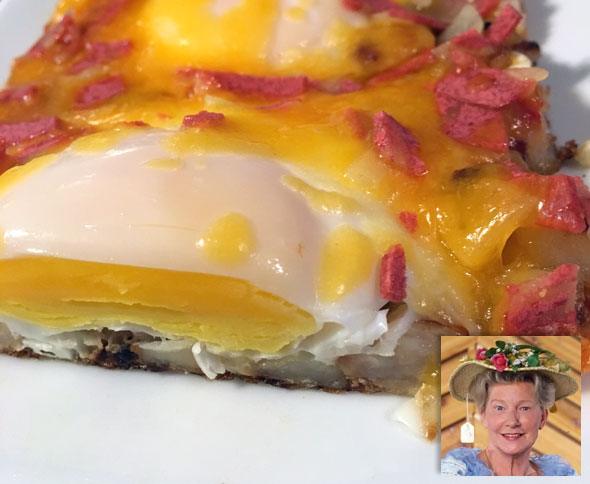 How To Make Minnie Pearl's County Breakfast

Cook bacon in skillet until crisp. Remove from skillet and crumble. Pour off part of the fat. Add potatoes, green pepper and onion. Cook until lightly browned. Season to taste.

Break eggs over potato mixture. Cover and cook until eggs are done. Sprinkle with cheese and crisp bacon. Cover and heat until cheese melts.

Makes 6 servings.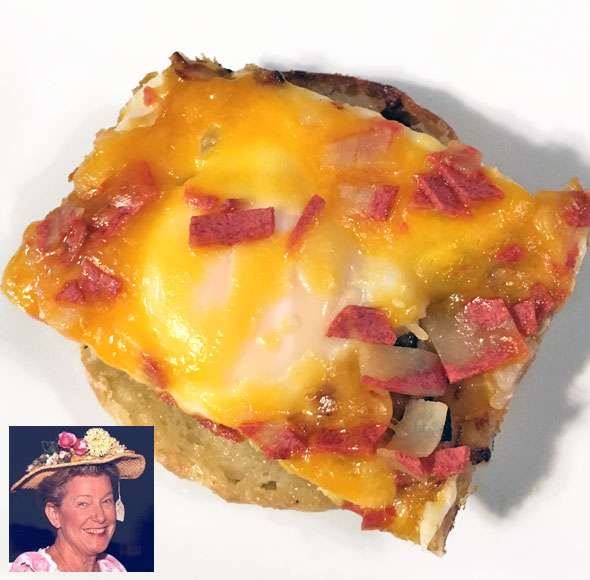 Minnie Pearl didn't specify whether the eggs should be broken and scrambled. For you're best shot at evenly cooked eggs, Mr Breakfast recommends beating the eggs with 3 or 4 Tablespoons of milk before adding them to the potatoes and creating a delicious scramble.




Mr Breakfast would like to thank Mr Breakfast for this recipe.

Recipe number 2499. Submitted 2/3/2009.