Mexican Breakfast Quiche

(6 servings)

1 pound ground chorizo sausage
1 medium-sized onion - chopped
1/4 cup mild green chopped chilies
16 ounces frozen tater tots (about 2 1/2 cups)
10 eggs
1 cup milk
1 can (about 8-3/4 ounces) whole kernel corn
3 cups (about 12 ounces) shredded Jack or Cheddar cheese
1 can (about 2-1/4 ounces) sliced ripe olives (drained) - optional
I made this over the weekend for a Sunday group brunch. It was a massive hit. Everyone loved it, even the little kids who were there. It's spicy, but not too-spicy. It feels like a meal within itself, so you don't necessarily need any side dishes to go with it. It's super easy to prep and you can make it the night before and bake it in the morning (like I did). The one big change I made from the recipe as submitted was that I used 12 ounces of SOY CHORIZO (from Trader Joe's) in place of the pound of regular chorizo. You'd never know from the taste that I made the switch. Overall, I totally loved this dish. People at brunch were asking for the recipe. That's always a sign of success! (This recipe was submitted in 2002. It was tested and photographed in August 2016.)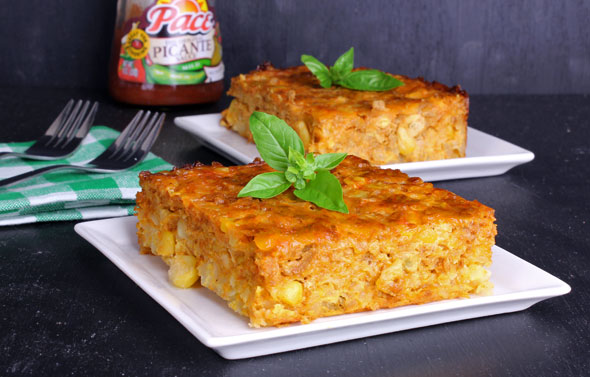 How to Make A Mexican Breakfast Quiche (With Chorizo)

Prepare a 9x13 rimmed baking pan by greasing generously with butter.

Microwave the tater tots on high for 5 minutes. Set aside.

Crumble chorizo into a wide frying pan and cook over medium heat, stirring often, until browned. Add onions and cook, stirring often, until soft (about 5 minutes). Discard fat. Stir in chopped chilies. Remove from heat.

In a large bowl, beat eggs with milk until blended. Stir in chorizo mixture, corn, cheese and optional olives.

Place the now-cooled tater tots in prepared baking pan and smash them down to form an even layer. Pour egg and chorizo mixture over the smashed tots and spread to an even layer.

Bake in a 350-degree oven until a knife inserted in the center comes out clean (about 32 minutes). Let stand for 10 minutes before serving.

To serve, cut into squares. If desired, garnish with avocado and cilantro sprigs.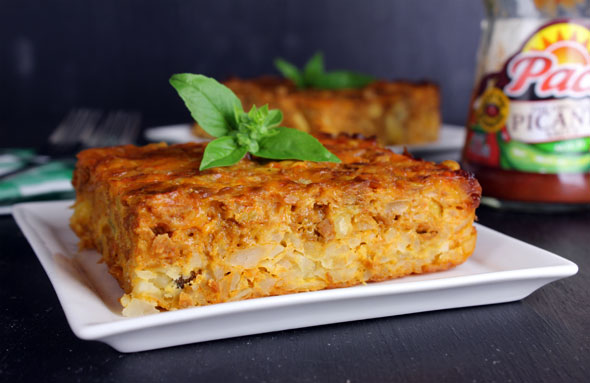 Cooking Notes From Mr Breakfast:

The recipe as originally submitted called for 1 teaspoon of salt. I omitted that from my recipe test, and now also from this recipe page, as chorizo (soy or otherwise) already adds all the salt you could want.

I used half Jack and half Cheddar for the cheese component.

Technically since there's no crust and this dish is made in a rectangular pan, this might be considered a breakfast casserole and not a quiche, per say. But since user "Stephanie" submitted it as a quiche, I've decided to keep it in that category.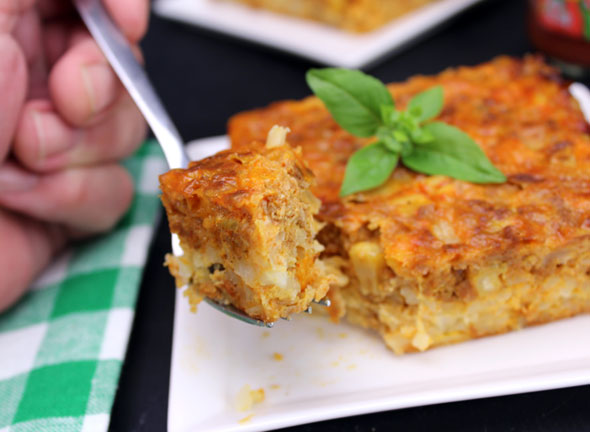 An easy-to-make and wonderful-to-eat Mexican Quiche (aka casserole) with the distinct flavor of chorizo. Soy chorizo can be used in place of the real stuff.




Mr Breakfast would like to thank Stephanie for this recipe.

Recipe number 247. Submitted 5/7/2002.