Billbo's Cheddar Oatmeal

(1 serving)

2 cups oats
1 chunk cheddar cheese
sugar - to taste
1 cup milk
I love the idea of savory oatmeal for breakfast. This recipe has received a number of positive reviews since it was submitted to the site in 2008. So, I decided to give it a try this morning. First off, the ingredients need more specification. I used 3 ounces of cheese (about 3/4 cup when shredded). I doubled the amount of milk and used about 2 teaspoons of sugar.

This recipe definitely belongs in our Experimental category. At first taste, it's a little startling. You don't expect the taste of cheese with oats. On second taste, you begin to understand how other people like this, even if you don't personally love it. Oddly enough, it's the sugar that makes this oatmeal work. It helps bridge the gap between the sweet oatmeal you're used to and the savory flavors you're facing. I doubt I'll ever make this again, but it was fun for one time. Overall: It wasn't gross, but it wasn't great. (This recipe was tested and photographed in March 2014.)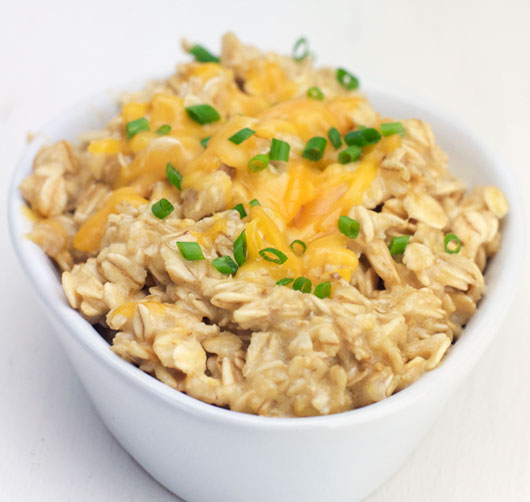 How To Make Billbo's Cheddar Oatmeal


(Instructions From Original Submitter)



Grate a chunk cheese and place in a microwaveable bowl. Add 2 cups of oats and a cup of milk to the bowl then sprinkle a bunch of sugar in the bowl.

Microwave for 2 minutes and eat.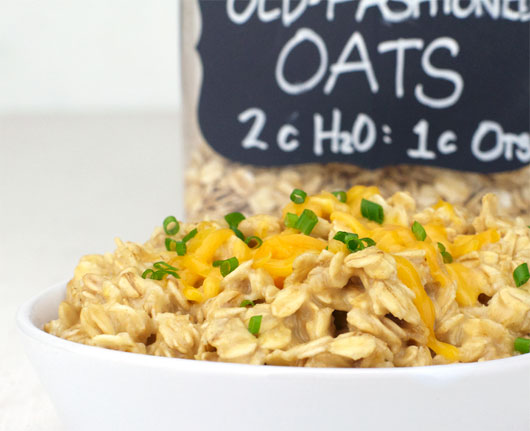 An unusual oatmeal concoction because it has Cheddar cheese and sugar. A blend of sweet and savory for the adventurous. So yummy.




Mr Breakfast would like to thank bilbo for this recipe.

Recipe number 2450. Submitted 12/13/2008.