Crustless Ham And Cheese Quiche

(4 servings)

6 oz lean ham diced into 1/4 inch pieces
3/4 cup frozen broccoli - thawed
1/2 cup Jack cheese - diced
1/2 cup Cheddar cheese - diced
8 large eggs
1/2 cup milk
1/2 teaspoon salt
1/4 teaspoon pepper
This recipe was submitted to the site by "BethH" way back in 2002. I finally got around to testing it this morning. Verdict: Excellent. I liked the inclusion of the broccoli which made a big, fresh flavor impact. There was almost too much ham. Personally, I like too much ham but you might want to reduce that 4 ounces. It had just the right amount of cheese. It was cheesy but not obnoxiously so. I recommend this quiche. (This recipe was tested and photographed in September 2014.)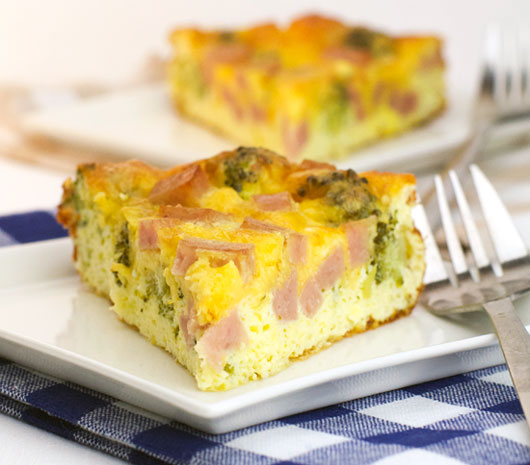 How To Make A Crustless Ham And Cheese Quiche

Preheat oven to 375 degrees. Grease a 9-inch pie dish.

Arrange ham, broccoli & cheese evenly over bottom of pie dish.

Blend remaining ingredients and pour over ham.

Bake until firm, about 40 minutes. Cover with foil if it begins to brown too quickly.

Cut in wedges and serve.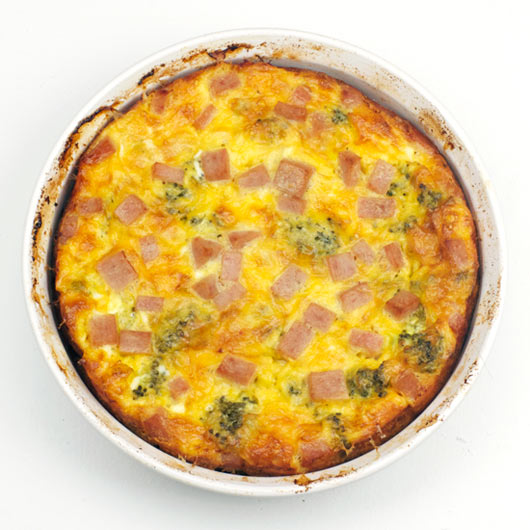 Cooking Notes From Mr Breakfast

The quiche pictured here took 38 minutes to bake. At 30 minutes, I covered the top with aluminum foil to prevent over-browning.

Taste your ham before adding it. If it's quite salty, consider omitting the salt in the recipe.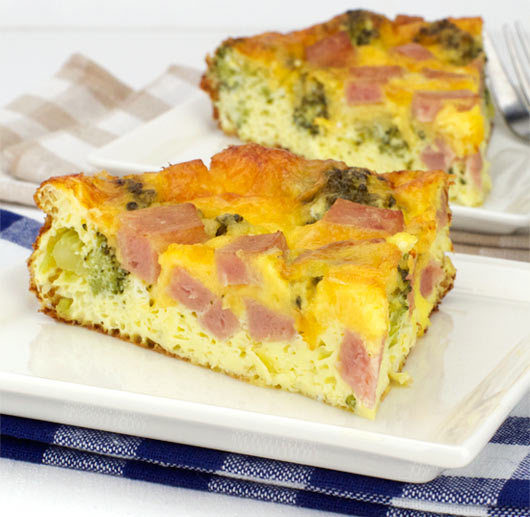 Easy-to-make quiche with ham, broccoli and two kinds of cheese. Takes 5 minutes to prepare and 40 minutes to bake.




Mr Breakfast would like to thank BethH for this recipe.

Recipe number 245. Submitted 5/7/2002.