Pumpkin Pie Oatmeal

(1 serving)

1/4 cup low fat milk
1/3 cup water
1/4 cup Old Fashioned oats
3 Tablespoons canned pumpkin
2 Tablespoon sliced almonds
2 Tablespoons maple syrup or brown sugar
1 pinch cinnamon
1 pinch nutmeg
2 drops vanilla extract
2 Tablespoons raisins - optional
This oatmeal tastes a little like pumpkin pie. You could get more of a pie flavor experience by adding more sweetener and topping with whipped cream. But as written, this recipe keeps the sugar content fairly low while still bringing a pumpkin pie sensation to mind. It took about 10 minutes to make. Bottom Line: Easy & pleasing, but does taste a bit healthy. (This recipe was submitted in 2008. It was tested and photographed in November 2014.)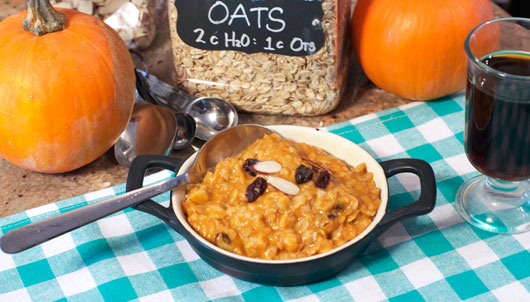 How To Make Pumpkin Pie Oatmeal

In a medium sauce pan over medium heat, bring the milk and water to a gentle boil. Add the oats, reduce heat low and simmer for 8 minutes or until desired consistency is reached.

Stir in the pumpkin, almonds, maple syrup (or brown sugar), cinnamon, nutmeg, vanilla and optional raisins.

Transfer to a serving bowl.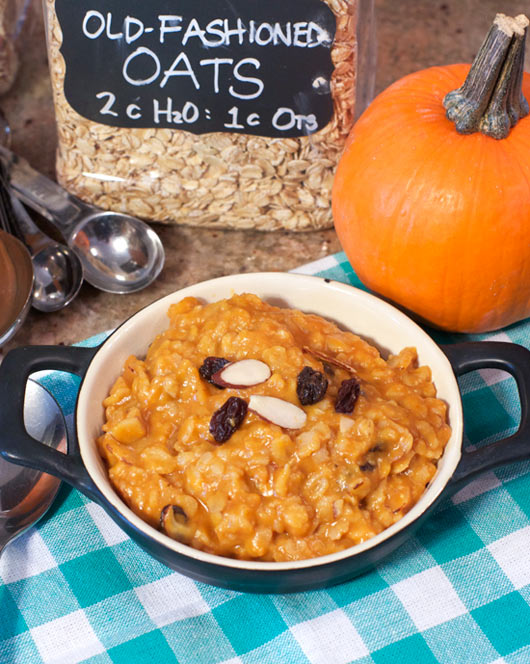 Cooking Notes:

In place of the sliced almonds, also try chopped pecans or walnuts

For a final garnish, sprinkle with a additional brown sugar and chopped nuts.

Instead of cinnamon and nutmeg, you could use a nice-sized pinch of pumpkin pie spice.

This oatmeal is so good when you serve it with a little whipped cream or low fat ice cream on top - just like you'd have on pumpkin pie. Enjoy!




Mr Breakfast would like to thank MSU-Spartans for this recipe.

Recipe number 2444. Submitted 12/9/2008.