Cinnamon Sugar Oatmeal

(4 servings)

2 and 1/2 cups water
1 pinch salt
2 cups quick oats
2 Tablespoons sugar
1/2 teaspoon cinnamon
1/2 cup half and half
butter and brown sugar - for serving
In a medium saucepan, bring the water and salt to a boil. Slowly, stir the oats and let the water return to a rolling boil. Immediately, reduce heat to a simmer. Stir in the cinnamon and sugar and continue to cook on low for 1 minute.

Add the half and half, stir and cook 2 minutes more - or until oats are at your desired consistency.

To serve, distribute oatmeal among 4 serving bowls and top each serving with a sprinkle of brown sugar and a pat of butter.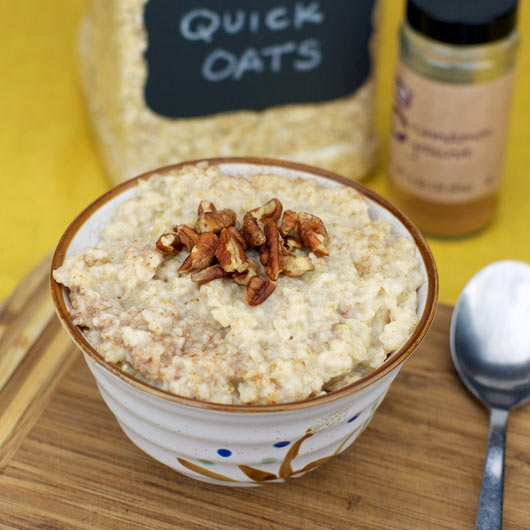 Just an easy recipe for from-scratch oatmeal. Make sure to use quick oats. Old Fashioned oats will require more cooking time... consult the package label for instructions.




Mr Breakfast would like to thank MooCow for this recipe.

Recipe number 2429. Submitted 11/14/2008.