Baked Egg & Cheese Croissants

(4 servings)

4 medium croissants - split in half horizontally
2 Tablespoons butter or cooking spray
1 cup grated Swiss cheese
1/2 cup grated Parmesan
1 cup grated Monterey Jack cheese
5 large eggs
1/4 cup skim milk
1/4 teaspoon pepper
1/2 teaspoon salt
1/4 teaspoon nutmeg
4 slices ham/Canadian bacon or six slices bacon (optional)
This was generally very good. It's a terrific recipe if you want to serve 4 croissant egg sandwiches all at once. Truth be told, I prefer a fried egg or scrambled eggs and cheese within a croissant as a sandwich, as opposed to this method where the croissant absorbs much of the egg like French toast. The star of this dish was the buttery croissants I used. The cheese was rather rich and I might consider omitting the Parmesan next time. The nutmeg was interesting but unnecessary. Overall: I was happy with this breakfast, but I'm not sure I'd make it again. (This recipe was submitted in 2008. It was tested and photographed in February 2017.)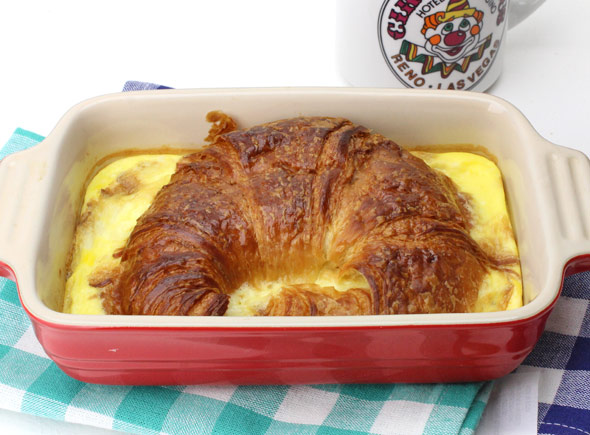 How To Make Baked Egg & Cheese Croissants

Preheat oven to 350 degrees and butter four au gratin dishes. Place the bottom half of each croissant into a dish, cut side up. Mix Swiss, Parmesan and Jack cheeses. Top each croissant with the cheese mixture, dividing each cheese equally among the croissants. (As an optional step - add in slices of ham or cooked slices of bacon inside the croissant.)

In a medium bowl, beat the eggs, milk and seasonings until frothy. Replace the tops of the croissants and pour 2/3 cup of the egg mixture over each croissant.

Bake for 20 minutes or until the eggs are set and the croissants are a golden brown.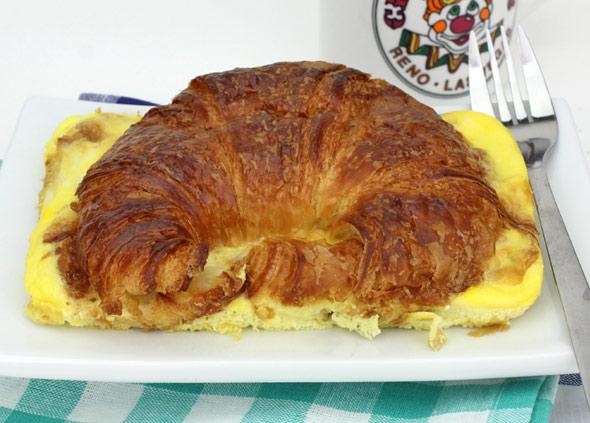 A great way to take croissants and make a breakfast extravaganza out of them. Also a great use if you have day-old croissants that are slightly stale.




Mr Breakfast would like to thank mrbreakfast_lvr for this recipe.

Recipe number 2380. Submitted 8/28/2008.