Maple Apple Raisin Oatmeal

(4 servings)

3 and 1/2 cups milk
1/8 teaspoon salt
2 cups quick or old-fashioned oats
1 cup medium apple (cored and peeled) - finely chopped
1 Tablespoon butter
1/4 cup maple syrup
1/2 cup raisins
1/2 cup chopped nuts - optional
This is a pretty tasty oatmeal, but I would recommend that you use the optional nuts to give it more character. I also found that a touch of brown sugar sprinkled over each serving gave it the perfect amount of sweetness (combined with the maple syrup in the recipe). For my nuts, I used chopped pecans. The only change I made to the recipe was to use 1/2 milk and 1/2 water. The only reason for that was because I was low on milk. All in all, this was a good tasting, healthy breakfast. (This recipe was submitted in 2008. It was tested and photographed in February 2014.)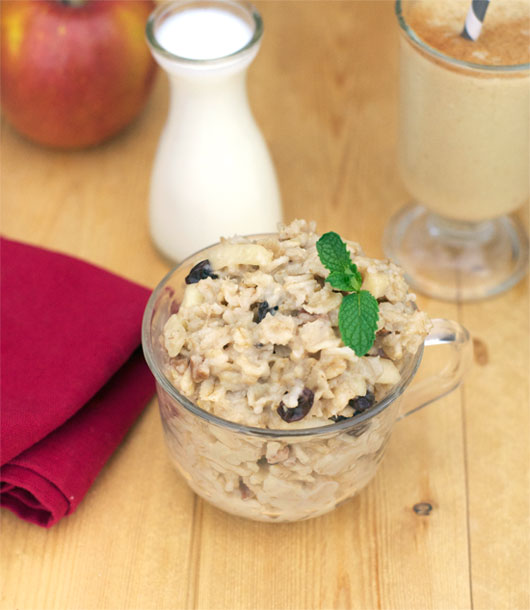 How To Make Maple Apple Raisin Oatmeal

In a large sauce pan, bring the milk and salt to a low boil. Stir in the oats. Allow oats to boil for 30 seconds. Reduce heat to a simmer and cook uncovered for 3 minutes.

Stir in the chopped apple. Cook 3 minutes more - stirring occasionally.

Remove pan from heat. Stir in all remaining ingredients. Let the oatmeal set for 3 or 4 minutes - until all liquid as been absorbed.

Top each serving with a sprinkling of brown sugar or a drizzle of maple syrup or honey.


If you decide to add nuts... walnuts are my favorite but just about any kind would do. I also like to top off each serving with a drizzle of maple syrup. Enjoy!




Mr Breakfast would like to thank Bennett for this recipe.

Recipe number 2377. Submitted 8/25/2008.