Bagel French Toast

(2 servings)

2 plain or sweet bagels (day-old works best)
2 large eggs
1/3 cup milk
1/2 teaspoon ground cinnamon
1/4 teaspoon ground nutmeg
1 and 1/2 Tablespoons butter
This is a fantastic way to give renewed life to day-old (or even 4-day-old) bagels. You slice your bagels into three horizontal slices. The center slice will feel like traditional French toast made with bread. The outer, crusty slices end up being a bit more crisp and chewy. I found the variation in textures to be a fun change from ordinary French toast, but I could understand if a few people find it irritating. The thing that makes me excited about this recipe is the wide variety of bagels available. I used cinnamon raisin bagels. I'm looking forward to trying blueberry and chocolate chip bagels. I'm also thinking about trying onion or everything bagels with a cheesy Hollandaise sauce. Bottom Line: I'll never throw away an old bagel again. This is a fun way to make French toast. (This recipe was submitted in 2008. It was tested and photographed in June 2016.)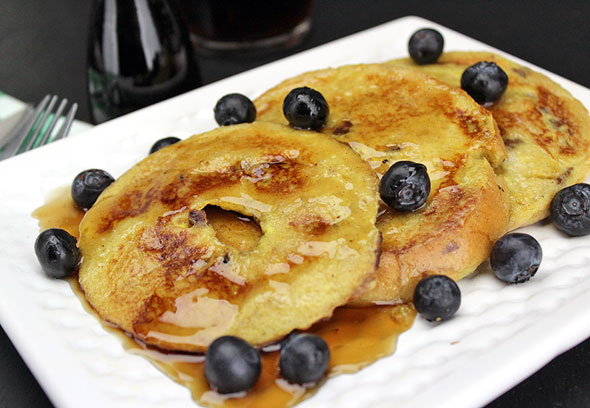 How To Make Bagel French Toast

Slice each bagel into thirds horizontally so you end up with 6 flat-tire pieces.

In a large shallow baking dish, beat the eggs with the milk and spices. Add the bagel pieces to this mixture and let them soak for about 20 minutes, turning occasionally to coat both sides.

In a large skillet over medium heat, melt the butter. Carefully transfer the bagel pieces to the pan (using a spatula prevents the pieces from breaking). Fry each side of each piece to golden brown - about 2 minutes per side.

Enjoy with a pat of butter and syrup as you would regular French Toast.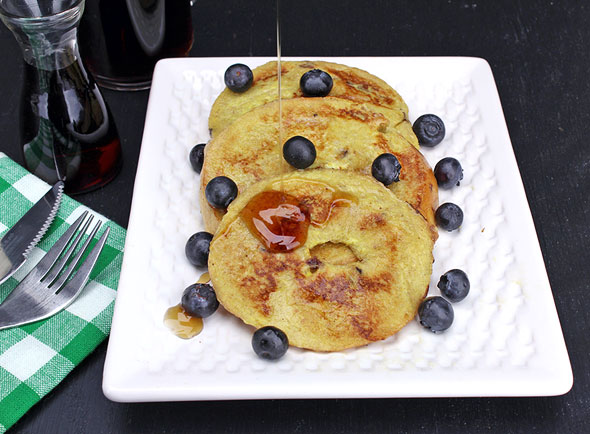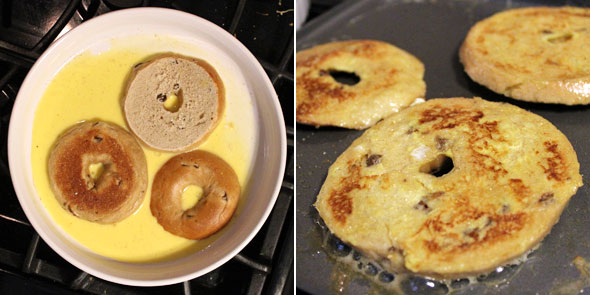 This is a fantastic use for left-over bagels. Actually day-old bagels that would be a little tough when toasted work the very best for this recipe. It's like bagels just got a second life!




Mr Breakfast would like to thank wolfblitzer for this recipe.

Recipe number 2372. Submitted 8/15/2008.