Bacon Cornflake Cookies

(12 servings)

1/2 cup butter - softened
3/4 cup sugar
1 large egg
1 cup all-purpose flour
1/4 teaspoon baking soda
10 bacon strips - cooked and crumbled
2 cups cornflakes
1/2 cup raisins
I made two different kinds of bacon cookies on the day I made these. The others were Bacon Chocolate Chip Cookies. Of the two batches, I preferred this recipe. There's something about the combination of bacon and cornflakes that works extraordinarily well. I also liked how the raisins added a hint of softness to a cookie that's somewhat crunchy. Most of all, I appreciated how this a TRUE BREAKFAST COOKIE as it contains cereal, bacon, fruit and even an egg. I'll be making these again for sure. (This recipe was submitted in 2008. It was tested and photographed in December 2015.)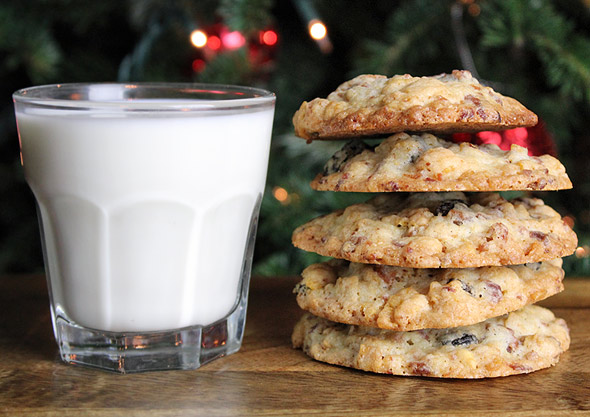 How To Make Bacon Cornflake Cookies

This recipe makes about 24 cookies.

Preheat oven to 350 degrees.

In a large mixing bowl, cream the butter and the sugar together. Add the egg and beat well.

Add the flour and baking soda. Mix well. Stir in the bacon, corn flakes and raisins.

On a large cookie sheet, dollop the batter in heaping Tablespoon amounts - leaving some room between each cookie as the batter will spread.

Bake for 15 to 18 minutes or until the cookies are lightly browned. Remove from oven and allow cookies to cool at least 5 minutes before serving.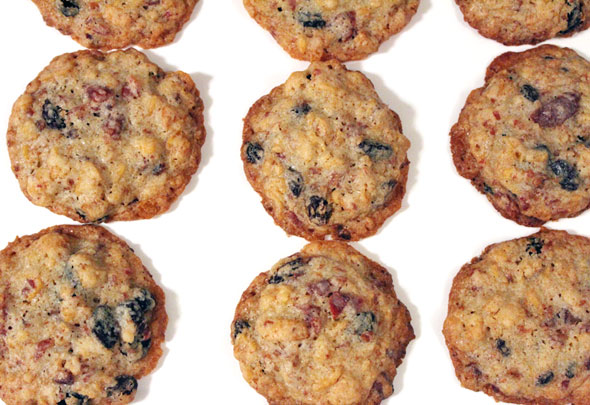 Cooking Notes From Mr Breakfast:

For me, this recipe made twenty 3-inch cookies.

The cookies were just the slightest bit too flat for my tastes. Next time, I'll form balls with each heaping Tablespoon of batter so they they spread out a little slower as they cook.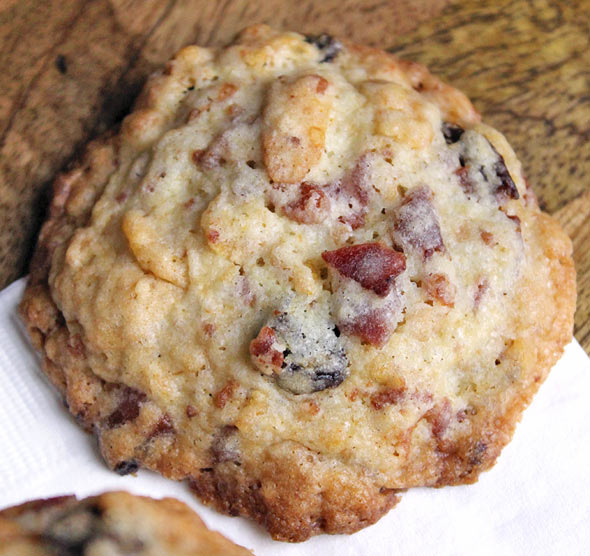 This recipe might seem weird at first because it combines bacon, cornflakes and raisins. But after you try it, you won't believe how well the flavors work together.




Mr Breakfast would like to thank bethy for this recipe.

Recipe number 2353. Submitted 7/12/2008.