Skywalker Smoothies

(2 servings)

1 cup fresh or frozen strawberries
1 banana
1/2 cup pineapple or grape or orange juice
4 ice cubes
If you are using fresh strawberries, cut off their stems with a knife. Put the fresh or frozen berries in a blender.

Peel the banana. Break it into pieces and add them to the blender. Then add the fruit juice and ice cubes.

Put the lid on the blender. Make sure it fits tightly. Turn on the blender first at low speed, then increase to high speed. Blend until smooth and frothy, 1 to 2 minutes. Turn off the blender and wait until it stops. With a wooden spoon, check to see that the fruit is thoroughly blended. If not, repeat this step.

Pour into 2 glasses and serve immediately.

Make 2 servings.

Variation: Add a scoop of vanilla or berry frozen yogurt to the blender along with the other ingredients.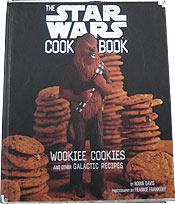 This recipe comes from The Star Wars Cookbook: Wookie Cookies And Other Galactic Recipes. It's filled with fun Star Wars recipes for every meal, plus snacks and drinks. It appears to be out-of-print, but you can usually find used copies at Amazon.com if you click here.


This is the text that introduces this recipe in the book:

"Luke definitely has the Force on his side, but sometimes he gets an extra boost from these scrumptious smoothies."


This is a nice, basic smoothie recipe with some ideas to vary the recipe to your liking. May the Force be with you.




Mr Breakfast would like to thank Mr Breakfast for this recipe.

Recipe number 2349. Submitted 7/7/2008.