C-3PO Pancakes

(4 servings)

5 tablespoons unsalted butter
2 cans (8 and 1/4 ounces each) pineapple rings
1 and 1/4 cups all-purpose flour
2 tablespoons brown sugar
2 teaspoons baking powder
1/2 teaspoon salt
2 large eggs
1 cup milk
butter and maple syrup for serving
Preheat oven to 250 degrees.

Put the butter in a small saucepan and switch the heat to low. When the butter has melted, turn off the heat. Let the butter cool slightly (5 minutes).

Meanwhile, open the cans of pineapple. Drain off the juice from the cans into the sink. Set aside.

Put the flour, brown sugar, baking powder and salt in a large bowl. Stir with a wooden spoon until well mixed.

Break the eggs into a medium bowl. Add the milk and 4 tablespoons of melted butter. Whisk until well mixed.

With a pastry brush, lightly brush some of the remaining melted butter in a large skillet. Set the skillet on the stove and switch on the heat to medium-high.

Fill a 1/3-cup measuring cup with batter. When the skillet is hot. after 1 minute or so, pour in the batter. Cook the pancake until golden underneath and bubbles burst on the top, about 3 minutes.

Place 1 pineapple ring in the center of the pancakes. Using a spatula, carefully flip the pancake. Cook until golden brown on the second side, about 2 minutes longer. Transfer the pancake to a baking sheet. Using pot holders, put the sheet in the oven.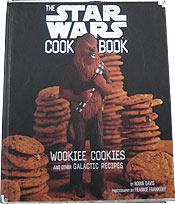 Continue to make pancakes in 1/3-cup amounts, placing a pineapple ring in the center of each before you flip. Brush the skillet with more butter as needed.

Serve the pancakes warm with butter and maple syrup.

Makes 8 pancakes.


This recipe comes from The Star Wars Cookbook: Wookie Cookies And Other Galactic Recipes. It's filled with fun Star Wars recipes for every meal, plus snacks and drinks. It appears to be out-of-print, but you can usually find used copies at Amazon.com if you click here.


This is a basic pancake recipe with the nice twist of adding a pineapple ring right before you flip.




Mr Breakfast would like to thank Mr Breakfast for this recipe.

Recipe number 2348. Submitted 7/7/2008.