Cheese And Onion Quiche

(6 servings)

1 small onion - diced
2 Tablespoons olive oil
3 large eggs
1 cup heavy cream
1 teaspoon salt
1/2 teaspoon black pepper
1/2 teaspoon dried basil
1/2 teaspoon dried oregano
3/4 cup mozzarella cheese - shredded
3/4 cup Cheddar cheese - shredded
1 store-bough 9-inch pie crust
We made this recently for a weekend brunch with friends. It went over really well. We made two so we had some leftovers and I can tell you that this quiche was just as good when it was warmed up in the microwave the next day. We did make a couple changes to the recipe as submitted (not reflected above). Instead of heavy cream, we used half and half. Instead of mozzarella, we used a combination of Gruyere and Swiss cheese. The cooking time was significantly longer (partially due to cooking 2 quiches simultaneously). It took nearly an hour to be fully set. My final word is... I love this quiche. (This recipe was submitted in 2008. It was tested and photographed in December 2013.)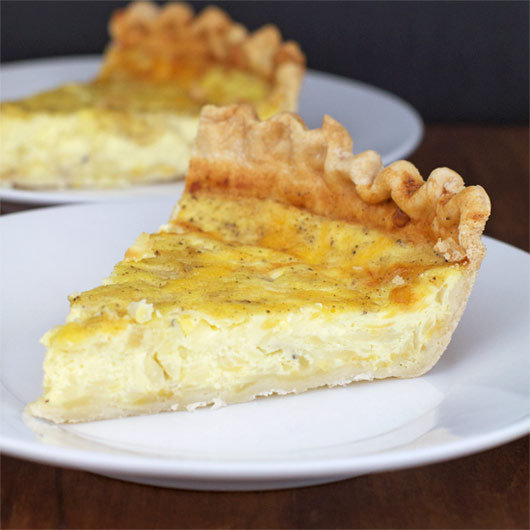 Preheat oven to 375 degrees.

*Note: It's always good to par-bake your pastry crust for 5 minutes before you add your ingredients. You might want to do that first... it help prevent the crust from warping later.

In a skillet over medium-high heat, saute the onion in the olive oil until the onions are soft and translucent. (This would be the time to add chopped peppers to the recipe if you want to alter it at all.)

In a large bowl, beat the eggs with the cream and all of the seasonings.

Take the onions and spoon them evenly over the bottom of the pie crust. Pour in the egg mixture. Sprinkle the combined cheese over the top.

Bake for 30 to 40 minute or until a toothpick inserted into the center comes out clean.

Let the quiche cool 5 or 10 minutes. Slice into wedges and serve.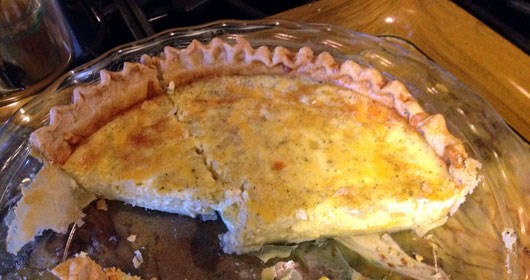 This is a great recipe to tamper with. Try sauteing diced green pepper or mushrooms with the onions. Also play around with the cheeses. Sometimes I just use all Cheddar... or basically whatever is in the refrigerator. Enjoy!




Mr Breakfast would like to thank lizabeth for this recipe.

Recipe number 2336. Submitted 6/20/2008.