Basic Bagel Breakfast Sandwich

(1 serving)

1 large bagel - sliced
1 large egg
2 slices of bacon
1 slice of Cheddar or your favorite cheese
This recipe was originally submitted under the name "Daddy's Bagel Sandwich". I changed the name to better reflect the nature of the recipe. For many people, this recipe will seem painfully obvious. But for those making a breakfast sandwich for the first time, it may be helpful. I can attest that the recipe resulted in a very tasty sandwich. One word of advice: Avoid Everything Bagels or bagels with multiple flavors. This is much better with an onion, sesame or plain bagel so that the flavors of the egg, cheese and bacon don't have to compete for attention. (This recipe was submitted in 2008. It was tested and photographed in May 2017.)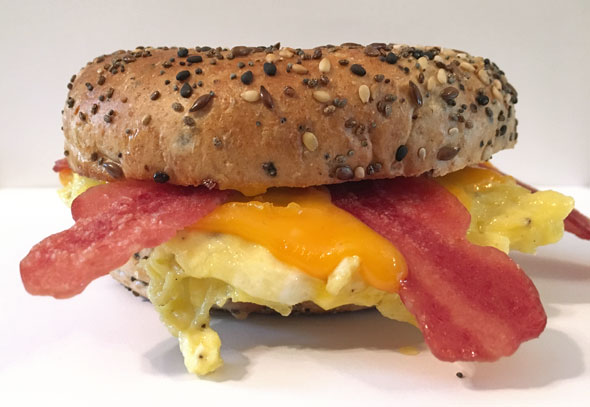 How To Make A Basic Bagel Breakfast Sandwich

Make the egg any way you would like.



(For a fast over-hard fried egg, melt a teaspoon of butter in frying pan. Crack the egg in the pan. Break the yolk with a spatula or a fork. When the whites of the egg are no longer clear, flip the egg and cook the other side one minute more.)



Fry up your bacon until crispy and tasty!



(I set my frying pan to medium for this. Flip the bacon strips once during the cooking time - usually about 8 minutes total.)



Toast the bagel in the toaster.



(I usually toast it to a very light golden brown so it's not too crunchy. At this point you could butter the bagel. I use Smart Start butter substitute.)



Place the egg on one half of the bagel, place a slice of cheese on the egg, followed by the bacon slices. Top with other half of the bagel to complete your sandwich. Let stand 30 seconds so the cheese melts. Eat it! Love it!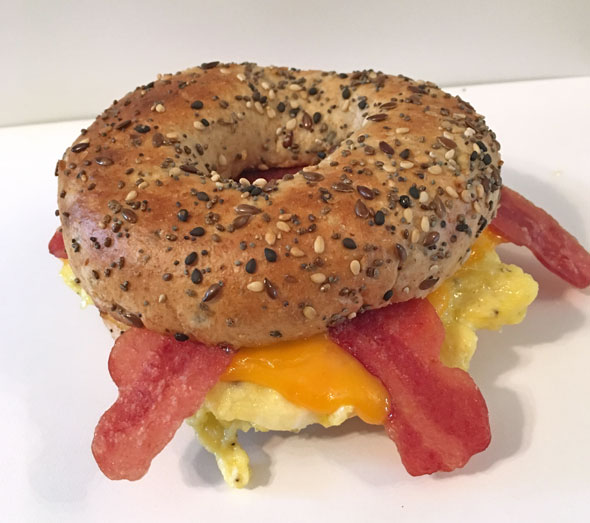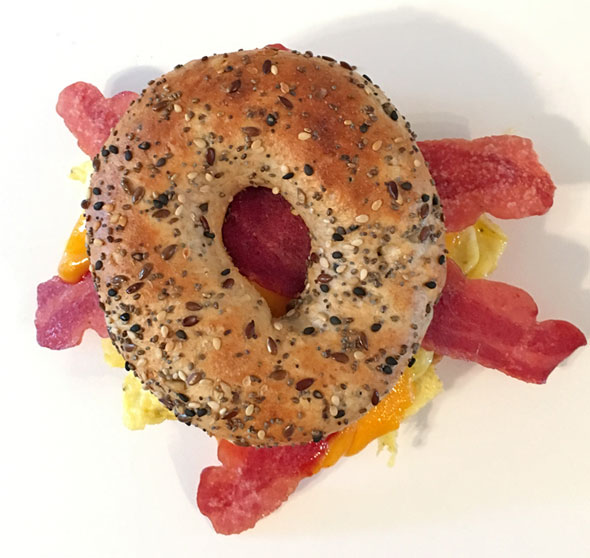 It's fast, easy and delicious! Who could ask for more when you're tired and rushed in the morning?




Mr Breakfast would like to thank jiggy4jeremy for this recipe.

Recipe number 2313. Submitted 5/11/2008.