Microwave Farmers Omelet (In A Cup)

(1 serving)

2 large eggs - beaten
2 or 3 Tablespoons shredded Cheddar cheese
2 Tablespoons diced fully cooked ham (or cooked and crumbled bacon)
1 Tablespoon diced green bell pepper
salt and pepper to taste
I was shocked that I liked this as much as I did. I'm pretty much a purist when it comes to omelets. I spent weeks finding my perfect frying pan. I've studied the techniques of the famed omelet chef Madame Romaine de Lyon. Realizing I can make a genuinely excellent omelet by throwing stuff in a cup is both exciting and somewhat deflating. The bottom line is that this method works.

I think the trick is filling your mug 2/3 full of ingredients before microwaving. That yields an omelet that rises just slightly over rim of the cup. I added an extra egg and increased the bell pepper to 2 Tablespoons to make that happen for my particular mug. As for cooking time, mine took 1 minute and 40 seconds... stirring twice during that period. I suggest that you serve the omelet directly in the the mug. It's much prettier than if you invert it onto a plate. Thanks to 'Bennett' for sending us this recipe. (Tested and photographed in June 2013)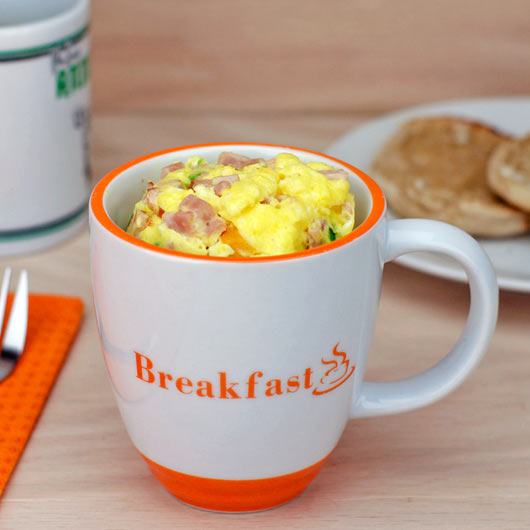 How To Make A Microwave Farmers Omelet

Prepare a large microwave-safe mug by spraying the inside generously with cooking spray.

Place all ingredients in the mug and stir to mix.

Microwave on high for one minute. Check the omelet. If the egg is not completely set, continue to microwave in 20 second intervals until it is completely set.

Run a knife around the edges of the omelet and slide it onto a serving plate.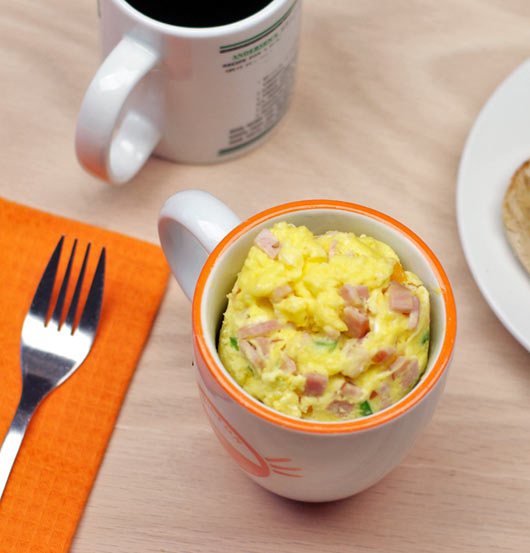 Breakfast in under two minutes! And dish washing is a breeze.




Mr Breakfast would like to thank Bennett for this recipe.

Recipe number 2310. Submitted 4/28/2008.