Butterscotch Waffles

(4 servings)

3/4 cup + 1 Tablespoon all-purpose flour
1/4 cup cornstarch
1 Tablespoon sugar
1/2 teaspoon salt
1/2 teaspoon baking powder
1/4 teaspoon baking soda
1 cup buttermilk (regular milk also works)
6 Tablespoons vegetable or canola oil (or melted butter)
1 large egg - separated
1/2 teaspoon vanilla extract
1/2 cup butterscotch chips
These waffles were extremely flavorful, intensely crisp and extraordinarily sweet. For photos, I topped them with caramel sauce and extra butterscotch chips. In truth, I liked them best with just a smear of butter and no other topping. Unlike other waffles that get limp after setting out, these remained crisp. Later in the afternoon, I enjoyed them as a cookie-like snack. If you want waffles without syrup, I highly recommend them. If you want more ordinary waffles where toppings can shine, you might find these too sweet. (This recipe was submitted in 2008. It was tested and photographed in January 2016.)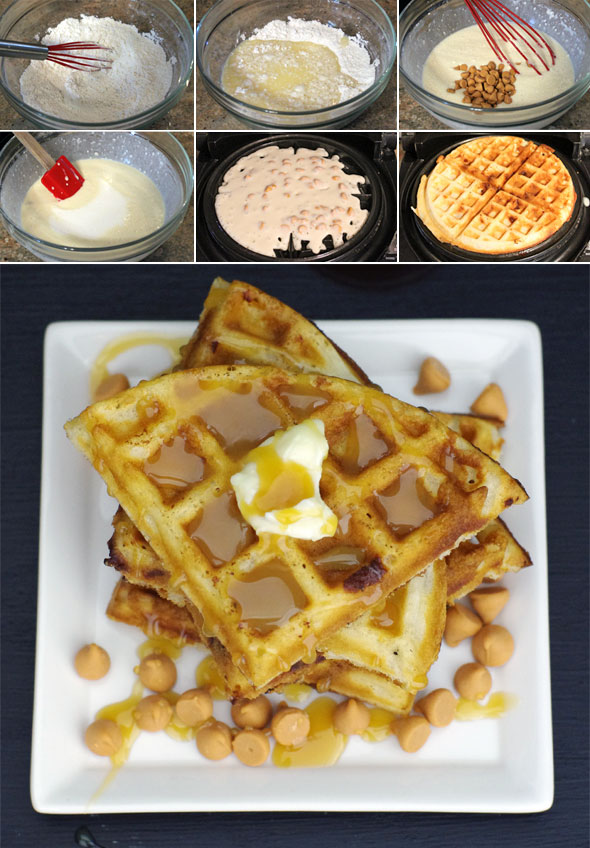 How To Make Butterscotch Waffles

Preheat waffle maker to medium-high.

In a large bowl, mix together the flour, cornstarch, sugar salt, baking powder and baking soda.

In a separate medium bowl, stir together the milk, oil, egg yolk and vanilla until well combined.

In a third bowl - preferably glass or metal - beat the egg white until peaks form.

Add the wet ingredients and butterscotch chips to the dry ingredients and stir until just combined and moistened. Gently fold in in the beaten egg white. The batter should be a little bit lumpy.

Dollop the batter onto the waffle maker in amount indicated by your waffle maker's instructions.

Cook until golden brown.

Serve warm with your favorite topping. I like a pat of butter and maple syrup for breakfast. For a great desert, try a drizzle of chocolate sauce and plenty of whipped cream.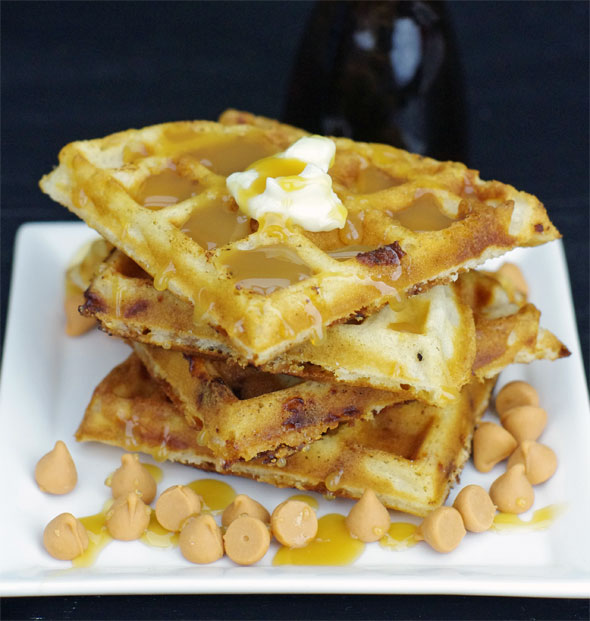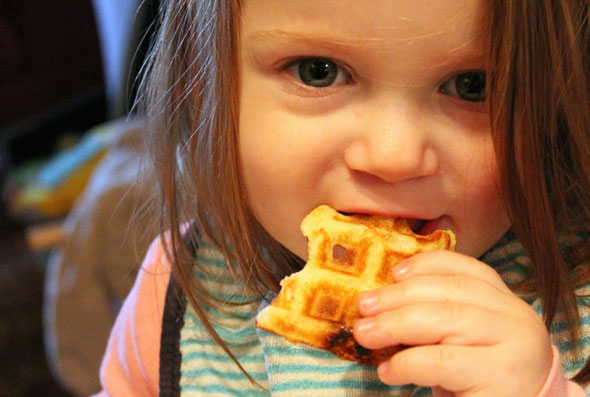 To prepare so all waffle can be served at once, store completed waffles in your over set at 250 degrees. Place tin foil or parchment paper between waffles if stacking them.




Mr Breakfast would like to thank TinaNY for this recipe.

Recipe number 2275. Submitted 3/8/2008.