Toaster Oven Granola

(6 servings)

1 and 1/2 cups Old Fashioned rolled oats
4 teaspoons wheat germ or almond flour
1/4 cup almond slices or chopped walnuts
3 Tablespoons chopped pecans
3 Tablespoons honey
1 Tablespoon canola oil
4 Tablespoons raisins or other dried fruit (optional)
1/4 cup mini chocolate chips (optional)
This recipe was originally submitted with the name "Healthy n' Happy Granola". Since it's a smaller batch of granola, I decided to make it in the toaster oven. And since it worked pretty well, I decided to change the recipe's name to Toaster Oven Granola. You should be aware that this is a very basic granola. You might want to add a teaspoon of vanilla and a dash of cinnamon to spark it up a little. When I realized that it was kind of plain, I decided to add some chocolate chips. That made it very, very good as chocolate often does to everything. Bottom Line: If you're dead set on using the toaster oven, this is pretty good stuff. If you want to use your regular oven, there's a number of better, more interesting recipes in our Homemade Cereals section. (This recipe was submitted in 2008. It was tested and photographed in June 2016.)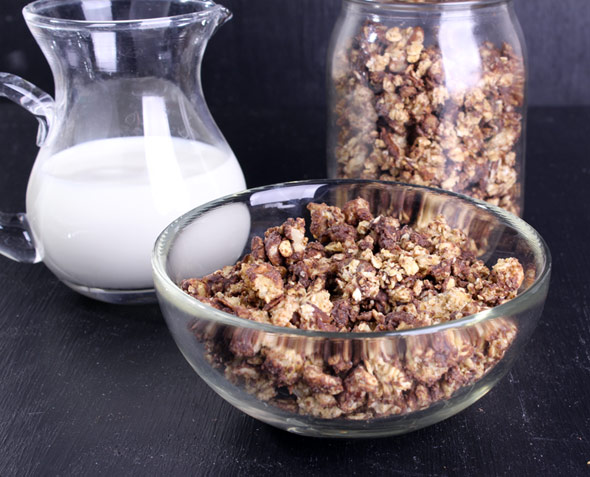 How To Make Granola In The Toaster Oven

Yield: a little under 3 cups.

Mix oats and all nuts together in a medium bowl. Drizzle honey and canola oil over the top and mix until everything is lightly moistened.

Spread mixture out on foil-lined baking sheet (for easy cleanup) and flatten to an even layer.

Bake in the toaster oven at 300 degrees for 15 to 20 minutes - stirring every 8 minutes - until you can smell the honey and oats and the cereal is beginning to turn golden.

Remove from toaster oven and immediately add raisins and mini chocolate chips, if desired. Toss until chocolate is melted and most oats are coated.

Let set for 20 minutes if not using chocolate. Let set 45 minutes if you use chocolate. Granola will crisp as it cools.

Stores well in an airtight container for up to 2 weeks.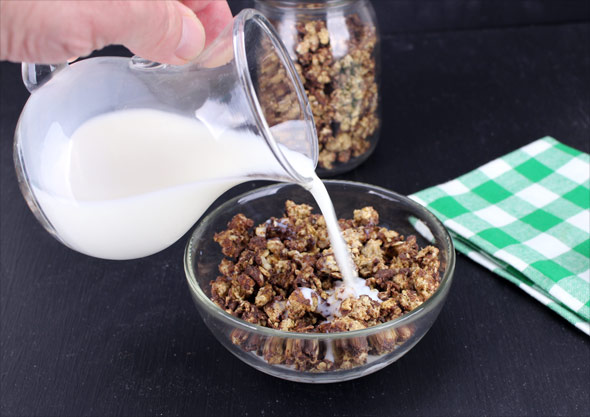 Cooking Note From Mr Breakfast

I used a Cuisinart toaster oven. The pan size was 10 1/2 x 9 1/2-inches.

To test for doneness, I take 1 teaspoon of the granola out of the toaster oven after 15 minutes. Blow on it and let it cool for 30 seconds. Taste and you can get an idea if the granola will be crisp or if it needs to bake longer.

According to the recipe submitter, each 1/2 cup serving (without chocolate) has 127 calories, 5g fat, 0g cholesterol, 140mg sodium, 19g carbs, 8g sugar, 3g fiber and 4g protein.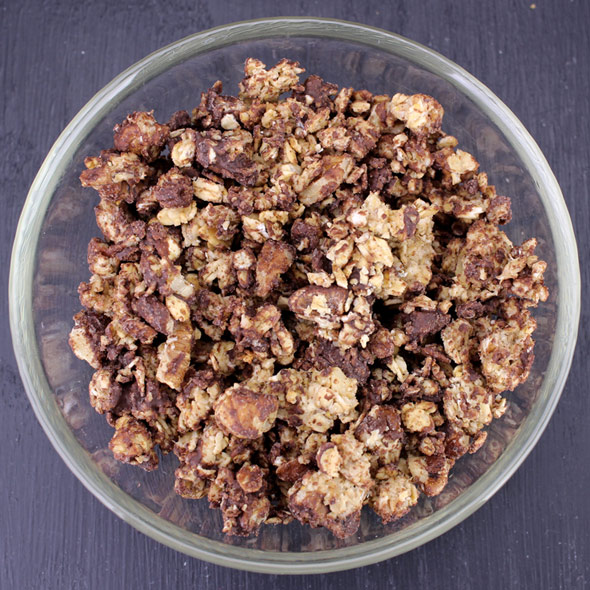 A basic granola that you make in the toaster oven. Includes directions to make a chocolate-coated variation.




Mr Breakfast would like to thank Nashta for this recipe.

Recipe number 2274. Submitted 3/6/2008.