Whole Wheat Pumpkin Pancakes

(6 servings)

1 cup whole wheat flour
1/2 cup cake flour
2 Tablespoons brown sugar
2 teaspoons baking powder
1 teaspoon baking soda
1/4 teaspoon salt
1 teaspoon ground cinnamon
1/2 teaspoon ground ginger
1/2 teaspoon ground nutmeg
1 cup buttermilk (regular milk will also work)
1 cup canned pumpkin puree
2 large eggs - lightly beaten
2 Tablespoons vegetable or canola oil
1 teaspoon vanilla
milk - as needed to thin batter (about 1/4 cup)
These pancakes were very good. Of the many kinds of whole wheat pancakes I've tested, these tasted the least like whole wheat. The flavors of pumpkin and seasonal spices mask the earthiness of the wheat and you'd never know they were made primarily with whole wheat flour. These pancakes were very fluffy... light, but still substantial. As people have commented below, you will need to add milk at the end to thin out the batter a little. I added between 1/4 and a 1/3 of a cup of milk and ended up with slightly thick, but very workable batter. Bottom Line: These are great pancakes. Don't let the long ingredient list dissuade you from trying them. (This recipe was submitted in 2008. It was tested and photographed in November 2016.)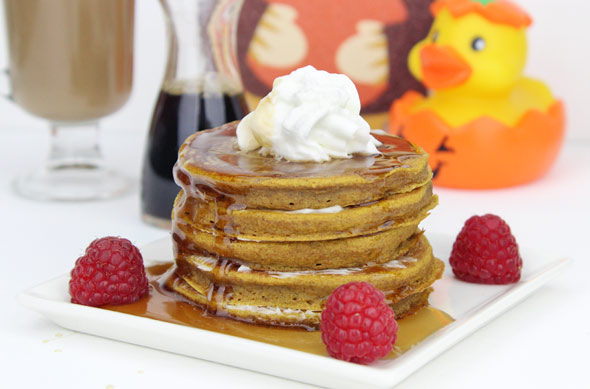 How To Make Whole Wheat Pumpkin Pancakes

In a large bowl, mix together the flours, brown sugar, baking powder, baking soda and all of the spices.

In a separate bowl, mix together the buttermilk, pumpkin, eggs, oil and vanilla.

Add the wet ingredients to the dry ingredients and stir until just combined. Add milk a few Tablespoons at a time if the batter is too thick. Allow batter to set at least five minutes before making pancakes.

Dollop the batter in 1/4 cup amounts per pancake onto a well-greased medium-hot griddle. Cook until the edges appear dry and small bubbles start to form over the surface of the pancakes. Flip and cook the other sides until golden brown.

Serve warm with your favorite topping.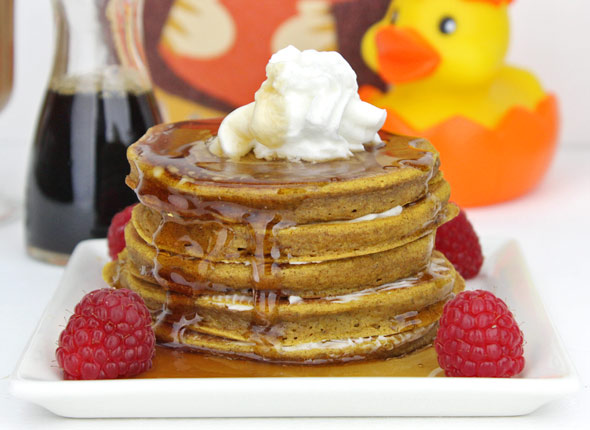 Cooking Notes From Mr Breakfast: My favorite pancakes from the batch I made here were the ones that were slightly overdone. So, don't worry too much about over-browning them.

As originally submitted, this recipe said it made 4 servings. I increased that to 6. I was able to get about sixteen 4-inch round pancakes from the batter.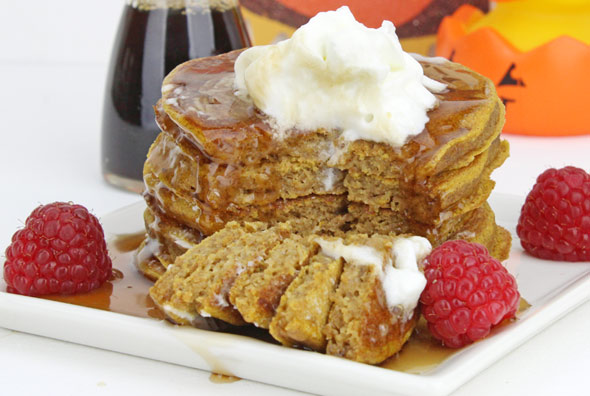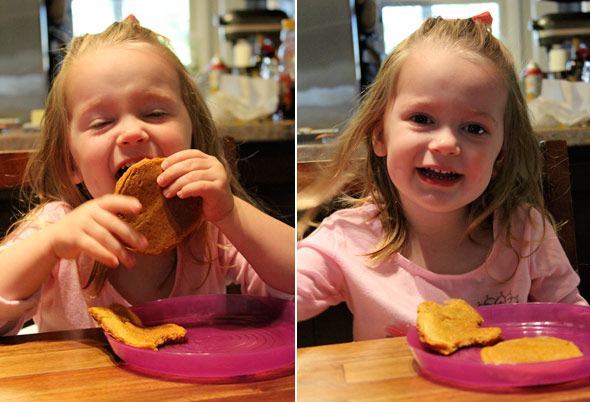 If you're like me, you probably have a can of pumpkin puree in the very back of the cupboard left over from the holidays. This recipe got rave reviews from my family. I hope yours likes it too.




Mr Breakfast would like to thank Bennett for this recipe.

Recipe number 2272. Submitted 3/3/2008.