Easy Peanut Butter & Jelly Smoothie

(1 serving)

1 1/2 cups milk
1 ripe banana (frozen)
2 tablespoons peanut butter
2 tablespoons jelly or preserves (any flavor)
1/2 teaspoon vanilla extract
1 Tablespoon honey
1 cup of ice
This recipe as submitted (above) was good, but I made it better. The amount of peanut butter needs to be increased by at least 1 Tablespoon to get a good peanut butter flavor. Jam worked okay, but fresh berries give you the feeling of jam with more flavor and less sugar. In my most successful attempt, I replaced the jam with 1/3 cup raspberries. With those changes, this is a very fun smoothie. Drinking peanut butter and jelly admittedly sounds a little weird. But the result is a refreshing, satisfying smoothie that's different and delicious. (This recipe was submitted in 2008. It was tested and photographed in September 2015.)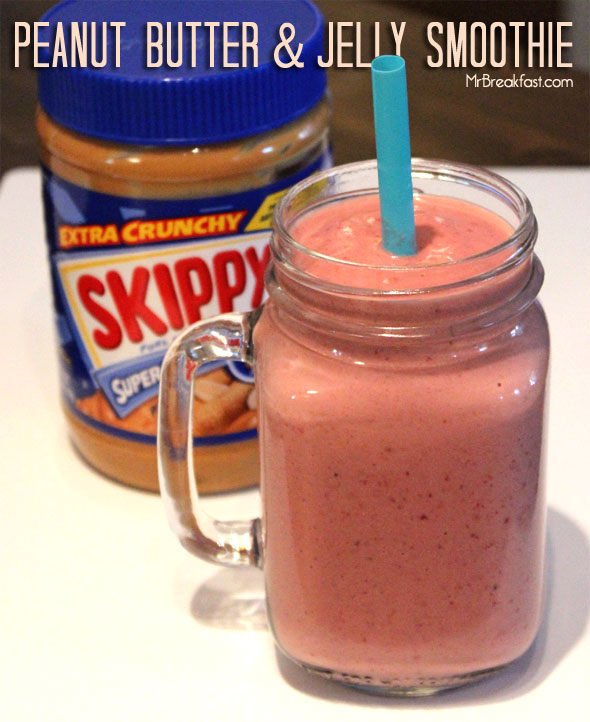 How To Make An Easy Peanut Butter & Jelly Smoothie

Place all of the ingredients in a blender; blend for about 1 minute or until smooth. Serve cold.


Peanut butter and jelly in a glass? Don't knock it until you try it. When mixed with a fresh banana and a little honey and vanilla, the flavor combination works great as a breakfast drink.




Mr Breakfast would like to thank MichiganDan for this recipe.

Recipe number 2270. Submitted 2/28/2008.