Blueberry Muffins w/ Crunch Topping

(12 servings)

1 and 1/2 cups all-purpose flour
3/4 cup white sugar
1/2 teaspoon salt
2 teaspoons baking powder
1/3 cup vegetable oil
1 large egg - beaten
1/3 cup milk
1 teaspoon vanilla
1 cup fresh or frozen blueberries


For The Topping:
1/2 cup white sugar
1/3 cup all-purpose flour
2 Tablespoons quick oats - optional
1/4 cup cold butter - cubed
1 1/2 teaspoons ground cinnamon
This recipe was originally submitted under the name "To Die For Blueberry Muffins". Since we have a large number of blueberry muffin recipes on the site, I changed the name to be more descriptive. I believe it was the recipe submitter's intention that the topping be more crumb-like. After a recipe test, I found the topping to actually be quite crunchy... which I actually really loved. I would try to fit some more blueberries in the batter next time - maybe increasing to 1 and 1/3 cup. The bites of muffin with blueberries were excellent. Bites without blueberries were just okay. (This recipe was submitted in 2008. It was tested and photographed in February 2016.)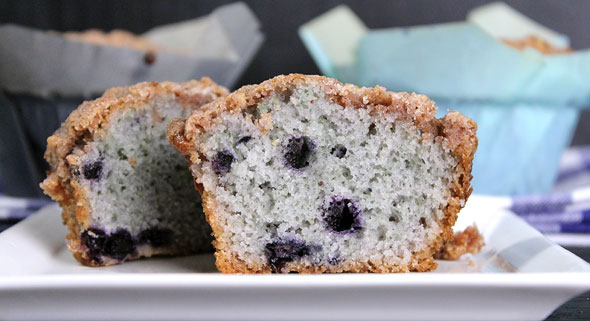 How To Make Blueberry Muffins w/ Crunch Topping

Preheat oven to 400 degrees F (200 degrees C). Grease muffin cups or line with muffin liners.

Combine 1 and 1/2 cups flour, 3/4 cup sugar, salt and baking powder. Place vegetable oil into a 1 cup measuring cup; add the egg and vanilla... and just enough milk to fill the cup. Mix this with flour mixture. Fold in blueberries. Fill muffin cups right to the top, and sprinkle with crumb topping mixture.

To Make Crumb Topping:

Mix together 1/2 cup sugar, 1/3 cup flour, 1/4 cup butter, 2 Tablespoons quick oats and 1 1/2 teaspoons cinnamon. Mix with fork and sprinkle over muffins before baking.

Bake for 23 to 28 minutes in the preheated oven, or until done.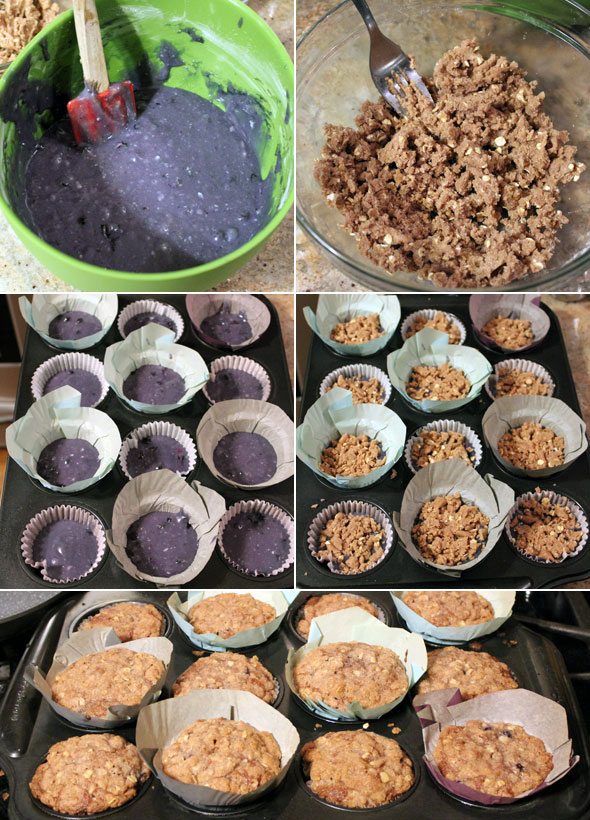 Cooking Note From Mr Breakfast

If you use frozen blueberries, you can expect your batter to turn somewhat blue. The resulting muffin will have just a slight blueish hue. If you want a near white crumb where the only blue is where the berries are positioned, use fresh blueberries and fold them into the batter very gently.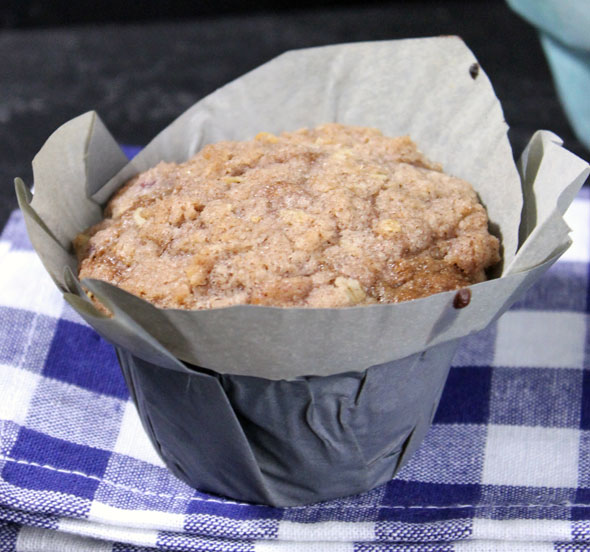 These muffins burst with blueberries and are topped with a delicious cinnamon butter-crumb topping that adds a welcome crunch.




Mr Breakfast would like to thank MichiganDan for this recipe.

Recipe number 2256. Submitted 2/10/2008.