Easy Breakfast Pie With Sausage

(6 servings)

1 pound pork sausage
1 package refrigerated crescent rolls
1 cup hash brown potatoes - thawed
1 cup shredded sharp Cheddar cheese
5 large eggs
1/4 cup milk
1/2 teaspoon salt
1/3 teaspoon pepper
2 Tablespoons grated Parmesan cheese
1/8 cup green onions - chopped
This recipe was so good, I toyed with the idea of changing the name to "EXTREME Sausage Deep Dish Breakfast Pizza". I made mine a little different than the original instructions specify. I used two 6-inch springform pans. The resulting breakfast pies looked a lot like small deep dish pizzas. Regardless of the pan(s) you decide to use, I'd consider cutting the amount of sausage to 3/4 pound. Extreme sausage is extremely great, but some people might find that it has too much sausage. Final Verdict: This dish is fantastic, fun and filling. (This recipe was submitted in 2008. It was tested and photographed in November 2014.)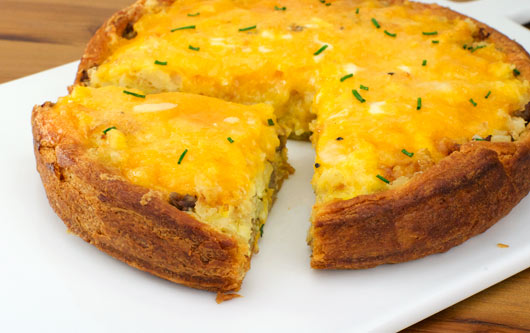 How To Make A Breakfast Pie With Sausage (aka Extreme Sausage Deep Dish Breakfast Pizza

Cook sausage until browned in a skillet; drain on paper towel.

Put triangles of crescent rolls into an ungreased 12-inch pizza pan. Press bottoms and sides to form crust. (Make sure the sides have an edge of at least 1/2 inch so it will hold the egg mixture).

Spoon sausage over crust; sprinkle with potatoes. Top with cheddar cheese.

In a bowl beat together eggs, milk, salt and pepper. Pour into crust and sprinkle Parmesan over all.

Bake in a 375 degree oven for 25 to 30 minutes. Top with green onions before serving.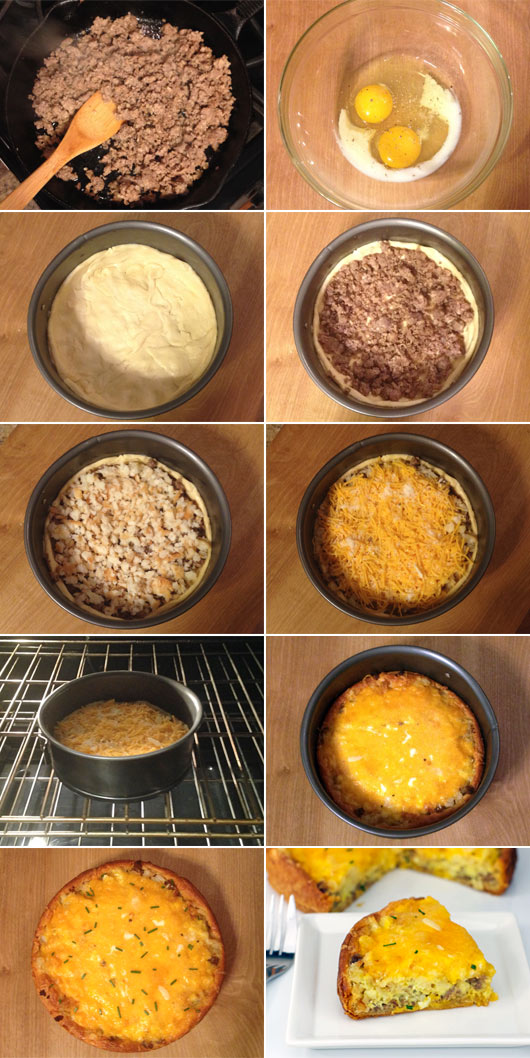 Cooking Notes From Mr Breakfast

Check the breakfast pie midway through cooking. If the crust is browning too fast, cover the pan loosely with aluminum foil and continue cooking until the egg is set.

You can omit the salt in the recipe if desired as most sausage has plenty of salt already.

Instead of green onion, you can use 1 Tablespoon finely chopped chives. That's what I did.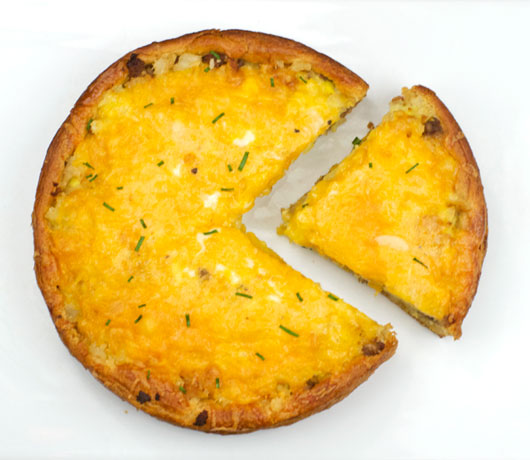 You could call this a casserole or a breakfast pizza. I call it a breakfast pie because it's easy as pie. You will need a tube of refrigerated crescent rolls for this one.




Mr Breakfast would like to thank mrbreakfast_lvr for this recipe.

Recipe number 2235. Submitted 1/11/2008.