Chocolate Stuffed French Toast

(6 servings)

1 loaf French bread
3/4 cup chocolate chips
6 large eggs
1 and 1/3 cups of milk
1/4 teaspoon of ground cinnamon
1/2 teaspoon of vanilla extract
1 teaspoon of sugar
This recipe won over everyone that I served it to at a recent brunch. It was super chocolatey and the bread texture was moist and gently custard-like. The flavor reminded me very much of a buttery chocolate croissant - which is happily weird because the recipe has no butter. I did smear just a little butter on each serving (less than a teaspoon) and I followed that with a dab of whipped cream and a drizzle of maple syrup. I followed the original instructions exactly, except I topped each piece of bread with another paper-thin slice of bread so the chocolate would be a hidden surprise when served. It worked. Everybody loved it. (This recipe was submitted in 2007. It was tested and photographed in October 2014.)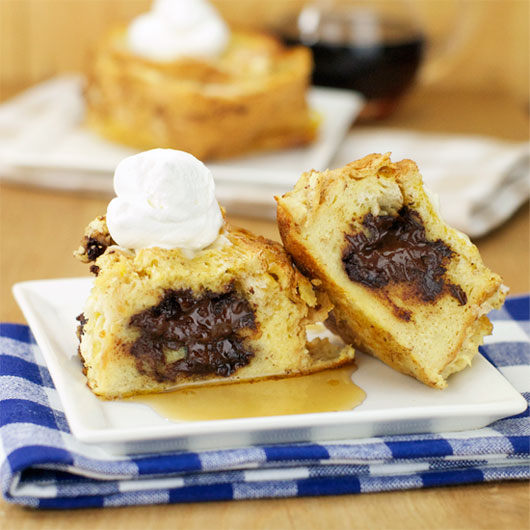 How To Make Chocolate Stuffed French Toast

Cut the loaf of bread into 6 slices - about 1 and 1/2 inches thick. Create a pocket for the chips by making a cut from the bottom crust of the bread to about 1/2 inch from the top.

Prepare a 13 x 9 baking dish with a generous coating of cooking spray.

Place the slit bread face down - side-by-side in the baking dish. Fill each slit in the bread with 2 Tablespoons of chocolate chips.

In a medium bowl, beat the eggs with the milk, sugar and spices. Pour this mixture over the bread slices in the pan.

Cover with plastic wrap and refrigerate for at least 4 hours (great for overnight).

When ready to prepare, bake at 400 degrees for 20 to 25 minutes until golden brown.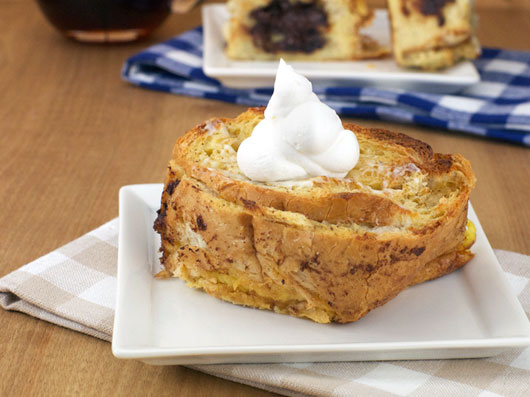 Cooking Note From Mr Breakfast:

The one thing that might be confusing or frustrating about the instructions is the bit about making a pocket in each bread slice. I tried cutting a few slices from bottom to top as directed. But in the end, I found it easiest to cut each slice from side to side - almost to the point where the bread is cut in half. It was easier to insert the chocolate chips that way. Whichever way you fit the chocolate, you'll discover that it's hard to mess up this recipe after you taste the results.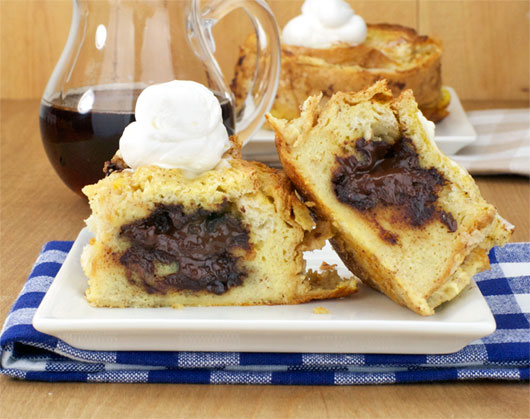 Topping possibilities include butter and maple syrup, chocolate sauce and whipped cream or a dusting of powdered sugar.




Mr Breakfast would like to thank DixieChick for this recipe.

Recipe number 2225. Submitted 12/19/2007.