Chocolate Chip Pumpkin Bread

(18 servings)

2 cups white sugar
1 cup brown sugar
1 15-ounce can of pumpkin puree
1 cup vegetable oil
2/3 cup water
4 large eggs - lightly beaten
3 and 1/2 cups all-purpose flour
1 tablespoon ground cinnamon
2 teaspoons ground nutmeg
2 teaspoons baking soda
1 and 1/2 teaspoons salt
1 and 1/2 cups semisweet chocolate chips
1/2 cup walnuts - chopped
This bread was a big hit around the MrBreakfast.com test kitchen. It got rave reviews from everyone who tried the loaves I made. It turned out moist with lots of pumpkin flavor and had chocolate in every bite. The chopped nuts didn't make a huge impact. You might want to increase that to 2/3 cup if you want them to be more noticeable. It tried making this recipe as 9 x 5-inch loaves and as mini 3.5 x 1.5-inch loaves. Both sizes worked fantastic. I really, really liked this bread. (This recipe was submitted in 2007. It was tested and photographed in September 2014.)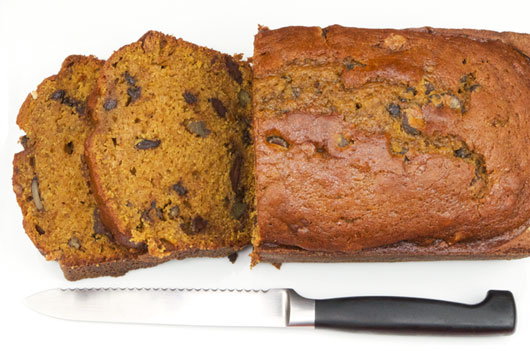 How To Make Chocolate Chip Pumpkin Bread

This recipe makes 3 loaves.

Prepare three 9x5 loaf pans by spraying generously with cooking spray.

Preheat oven to 350 degrees.

In a large bowl, mix together the sugars, pumpkin, oil, water, and eggs until smooth.

In a separate bowl, mix together the flour, cinnamon, nutmeg, baking soda and salt.

Slowly stir the dry mixture into the wet mixture until just combined. Gently fold in the chocolate chips and walnuts.

Distribute the batter evenly between the prepared loaf pans.

Bake for 45 to 50 minutes or until a knife or toothpick inserted into the center comes out dry (no batter).

Allow bread to cool for at least 15 minutes before serving.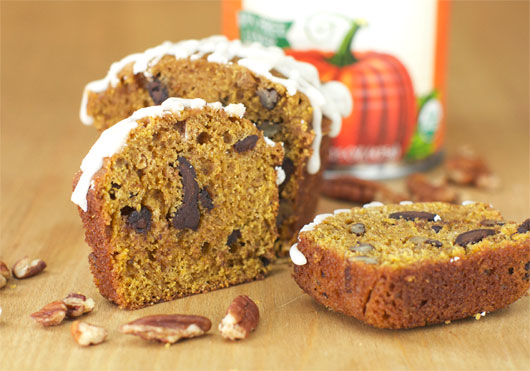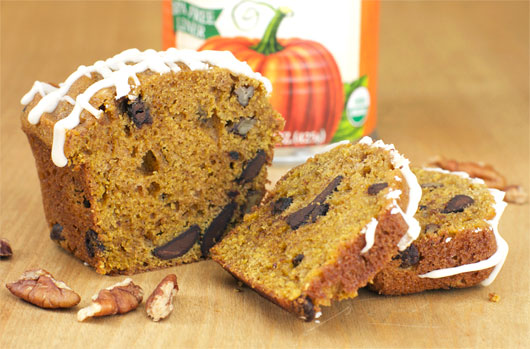 Cooking Notes From Mr Breakfast:

When cooking 9 x 5-inch loaves, it took 60 minutes to bake the bread pictured here. It took 35 minutes to bake the 3.5 x 1.5-inch mini loaves.

If desired, you could use melted and cooled butter in place of part or all of the oil.

Pecans are a great alternate choice if you're not a fan of walnuts.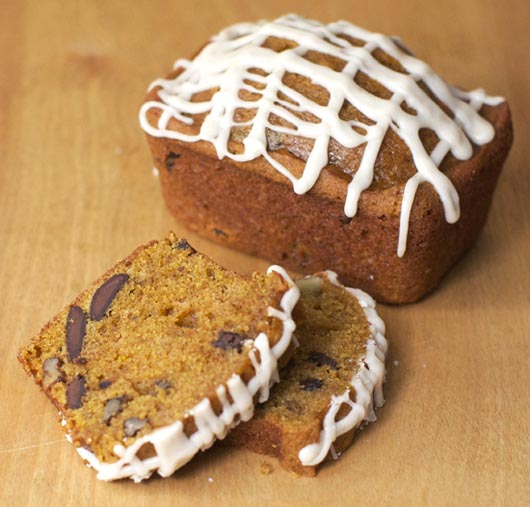 This has become a requested favorite around our house during the holidays. The pumpkin and chocolate taste really good together.




Mr Breakfast would like to thank lizabeth for this recipe.

Recipe number 2223. Submitted 12/14/2007.