Bacon Chocolate Chip Cookies

(12 servings)

3/4 cup butter
2/3 cup brown sugar - packed
2/3 cup granulated sugar
1 teaspoon vanilla extract
1/2 teaspoon hazelnut or maple extract
1 large egg
2 and 1/2 cups flour
1 teaspoon baking soda
1 teaspoon salt
1 cup white chocolate chips
1 cup dark or semi-sweet chocolate chips
2 cups bacon bits (real bacon only - not bacos)
When Santa Claus comes to our house, we want him to feel like a man. So the chocolate chip cookies we leave have a substantial amount of crumbled bacon. He appreciates it. We get many, many presents. Trust me, It's Huuuuge. These cookies have a double dose of chocolate with both dark and white chocolate chips. The bacon makes them quite rich. Most everyone who tried them loved them. Truth be told, I prefer a regular chocolate chip cookie with a slice of crisp bacon on the side. But I'm very glad I tried this recipe. It's fun. (This recipe was submitted in 2007. It was tested and photographed in December 2015.)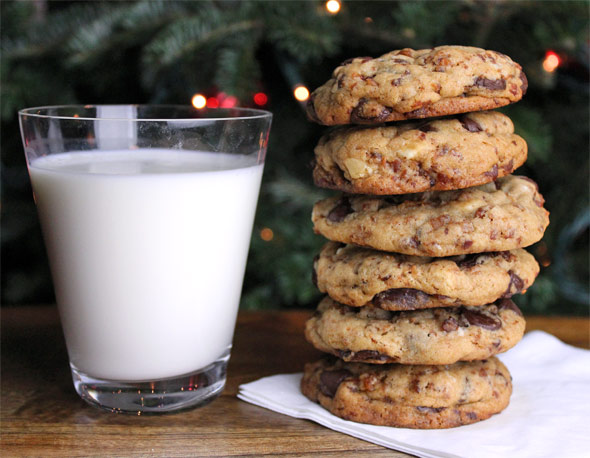 How To Make Bacon Chocolate Chip Cookies

Preheat oven to 350 degrees Fahrenheit.

Beat together the butter, sugars, flavoring and eggs until creamy. In another bowl, sift together the dry ingredients. Add the dry ingredients to the butter mixture and stir together. Dough will be slightly soft. If you want a cakier cookie, add another half cup of flour. Add in chocolate chips and bacon bits. Stir until well integrated. Place dough on a sheet of waxed paper and refrigerate at least an hour. Remove dough from fridge, pinch off 1 1/2 inch pieces of dough and roll into balls. Set dough balls about 2 inches apart on an ungreased cookie sheet. Flatten dough balls slightly with your fingers in the center.

Bake cookies for 14 to 16 minutes, or until the dough starts to turn golden brown. Allow cookies to cool on a cooling rack.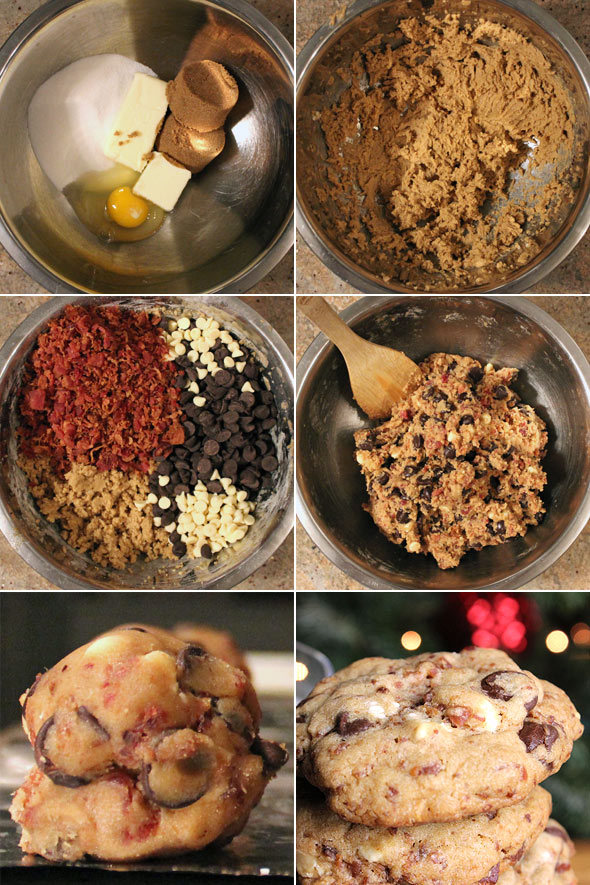 Cooking Notes From Recipe Submitter:

It takes about 2 pounds of bacon to make 2 cups of bacon bits. Be sure to pat the bacon to remove all the extra grease.

I also like to top them with a Maple Cinnamon Glaze:

- 2 cups powdered sugar
- 1 tablespoon maple extract
- 1 teaspoon vanilla extract
- 1/2 teaspoon cinnamon
- enough water to make a thick glaze (I used about 3 tablespoons)

Mix all ingredients together until smooth and creamy. If lumpy, use a whisk.

Spread a small amount of the glaze on the top of each cookie.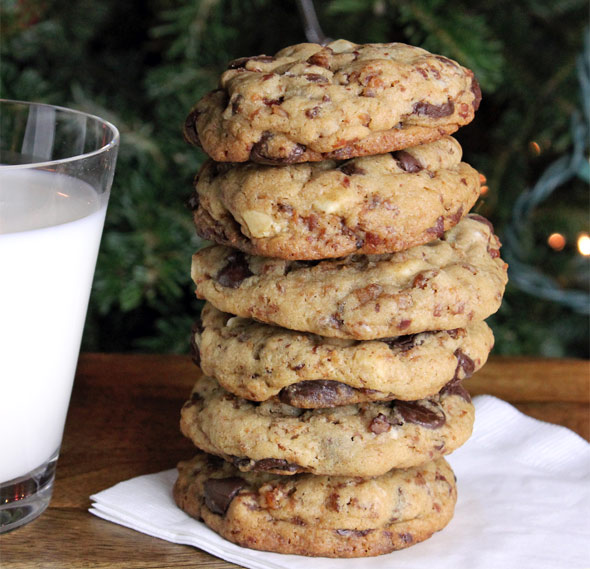 Cooking Notes From Mr Breakfast:

I didn't have hazelnut extract so I used maple extract instead for that ingredient.

This recipe made 2 dozen 3-inch cookies.

The cooking time for the cookies pictured here was exactly 15 minutes.

For my bacon, I used a package of Hormel Premium Real Crumbled Bacon. It works great in baked goods because it's less greasy than freshly fried bacon.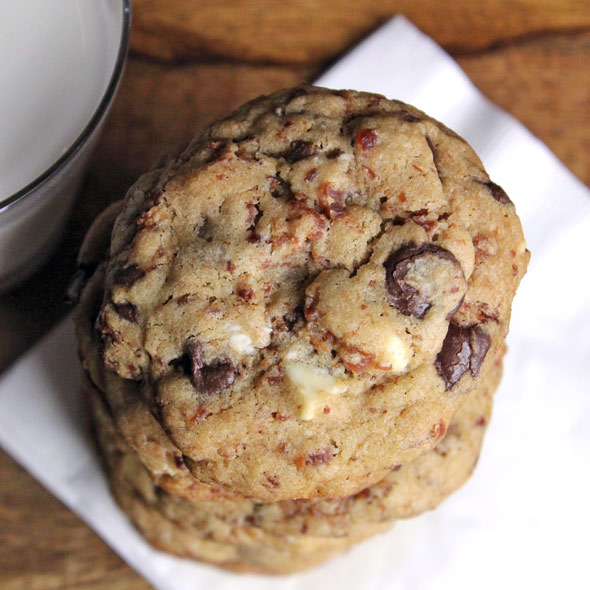 The best flavors of breakfast together in a cookie: chocolate with generous bits of bacon and an optional maple glaze.




Mr Breakfast would like to thank HollyMartel for this recipe.

Recipe number 2222. Submitted 12/10/2007.