Eric's Breakfast Sandwich

(1 serving)

1 whole wheat hamburger bun or 2 slices whole wheat bread
1 large egg - fried or scrambled
1 turkey breakfast sausage patty or 2 slices deli ham
1 slice American or Pepper Jack cheese
Zatarain's creole seasoning
This recipe was submitted to the site by a guy named Eric back in 2007. It took me a couple years, but I finally got around to trying it. Instead of a hamburger bun, I used a beautiful toasted pretzel roll. Rather than deli ham, I opted for Smoke 'n Honey Beef Roll (a sort of very smokey salami) from Seltzer's - which I warmed with the sliced roll in the toaster oven. For everything else, I stuck to the recipe. I liked it very much and I was able to make it in about 8 minutes. (This recipe was tested and photographed in February 2014.)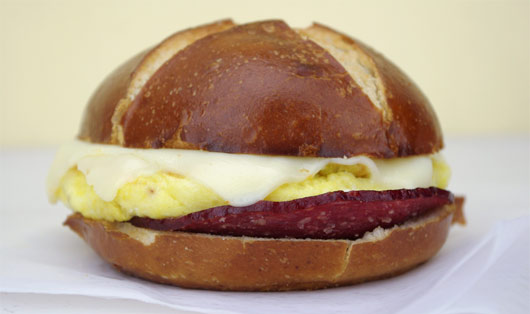 How To Make Eric's Breakfast Sandwich

Saute sausage patty or warm the ham.

Fry or scramble the egg to your liking.

Toast your bun or bread.

Assemble with slice of cheese.

Season with Zatarain's creole seasoning - to taste.


I've been eating this for breakfast for a long time. It's a simple recipe that only takes about 10 minutes to prepare. Enjoy with a glass of cold milk or orange juice!




Mr Breakfast would like to thank Eric_R for this recipe.

Recipe number 2217. Submitted 11/26/2007.