Blueberry Graham Pancakes

(5 servings)

9 Honey Maid or similar graham crackers - finely crushed
1/2 all-purpose cup flour
1 teaspoon baking powder
1 large egg
1 cup milk
1 teaspoon honey
3/4 cup fresh or frozen blueberries
These are hearty pancakes with a unique flavor. Some might find them a little too dense compared to fluffy buttermilk pancakes, but I personally liked the more substantial texture for a change of pace. At first taste, you might find the graham flavor a little subtle - which is surprising considering crushed graham crackers are the most prominent ingredient. After a few bites, you appreciate that the graham flavor isn't overwhelming so that you can also fully enjoy the flavors of the blueberries and the topping you decide to use. Bottom line: Easy, tasty and worth making these again. (This recipe was submitted in 2007. It was tested and photographed in January 2016.)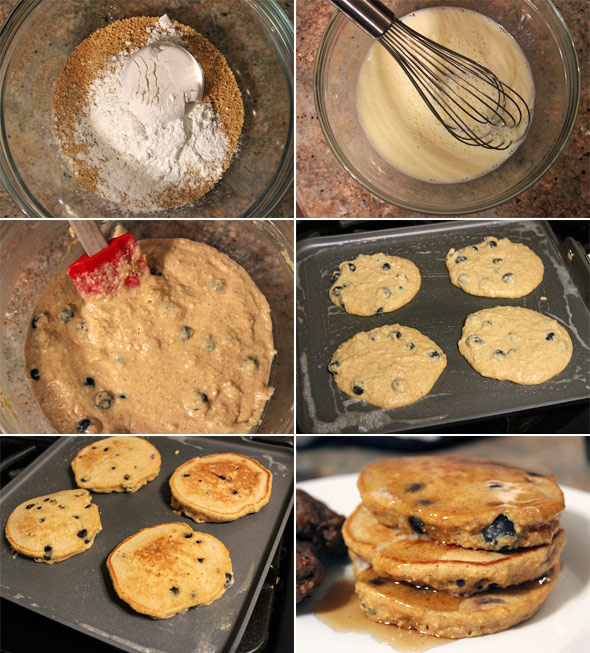 How To Make Blueberry Graham Pancakes

Combine graham crumbs, flour and baking powder; set aside.

Beat egg, milk and honey in medium bowl with wire whisk until well blended. Add flour mixture; stir just until moistened. Gently stir in blueberries.

Ladle batter onto hot lightly greased griddle or into hot lightly greased skillet, using 1/4 cup batter for each pancake. Cook until bubbles form on tops, then turn over to brown other sides.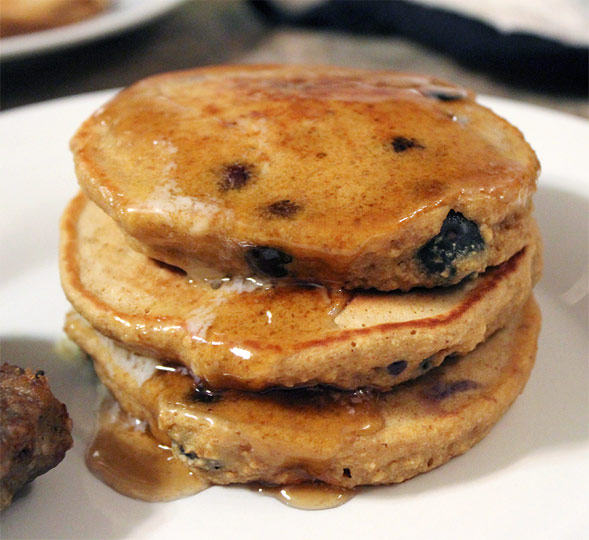 Cooking Notes:

The graham crackers should yield between 1 cup and 1 1/4 cup once the are crushed.

If using frozen blueberries, do not thaw them before adding them to batter. (They get mushy and release to much juice when thawed.) To quickly crush graham crackers into crumbs, use a blender or food processor.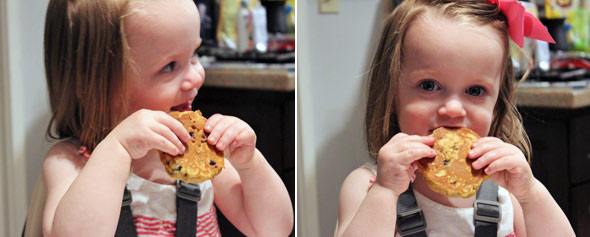 These pancake use crushed graham crackers to give them a totally unique taste.




Mr Breakfast would like to thank Konnie for this recipe.

Recipe number 2203. Submitted 11/5/2007.